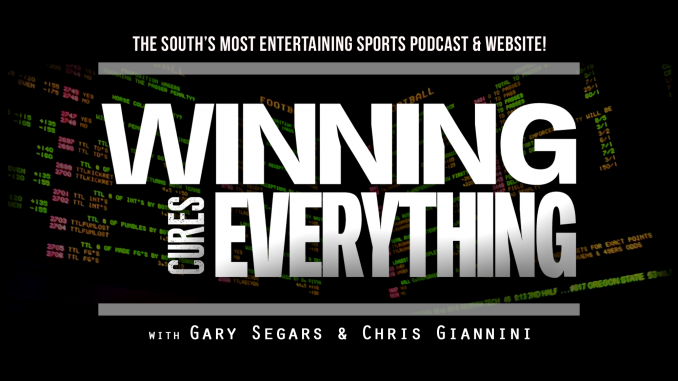 Keep up with our podcasts!
Enter your e-mail, and we'll let you know what's going on at WCE a couple of times a month!
Gary here… normally, I do a super long, detailed description for each podcast, but I have been stretched for time this week, and I want to go ahead and get the podcast out there, considering I'm almost an entire day late. Here's a brief summary of what today's podcast entails:
– NFL Week 10 recap
– NFL Week 10 Top 5 / Bottom 5
– NFL Week 11 Preview
– NFL Week 11 Gambling Picks
– College Football Week 12 Preview
– College Football Week 12 Gambling Picks
– CFB Playoff Top 25 Reaction
Thanks for listening! Next week, we'll have a special guest joining us, along with me doing a few solo segments!
———-
► Football Picks Contest!
Winner gets a different prize each week! Enter here: http://www.winningcureseverything.com/fb-picks-contest
► Site: http://www.winningcureseverything.com
► YouTube: http://www.youtube.com/winningcureseverything
► Store: http://www.winningcureseverything.com/store/
► Podcasts: http://www.winningcureseverything.com/podcasts
► Facebook: http://www.facebook.com/winningcureseverything
► Twitter: http://www.twitter.com/winningcures
Gary's twitter: http://www.twitter.com/garywce
Chris's twitter: http://www.twitter.com/chrisbgiannini