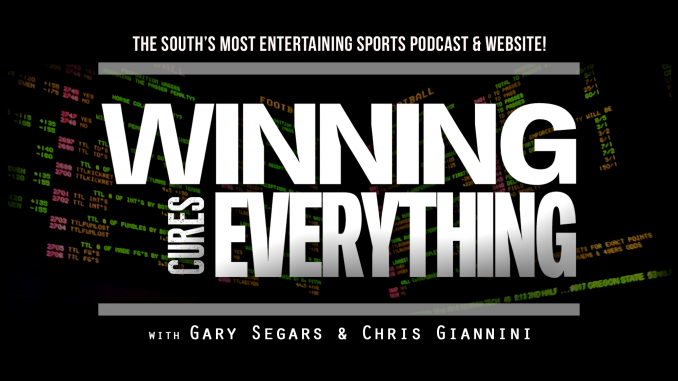 Keep up with our podcasts!
Enter your e-mail, and we'll let you know what's going on at WCE a couple of times a month!
It's Championship Week in College Football, but we start off with an NFL Week 12 Recap and rankings, then jump to College Football Playoff Ranking reaction… and then, we get into what you're really here for… NFL Week 13 Previews and Picks, and College Football Week 14 Previews and Picks.
In the NFL Week 14 Previews, we discuss these games:
– Chargers @ Steelers
– Saints @ Cowboys
– Vikings @ Patriots
– Redskins @ Eagles
– Ravens @ Falcons
– Rams @ Lions
– Broncos @ Bengals
– Browns @ Texans
Then we pick these games against the spread:
– Rams @ Lions
– Browns @ Texans
– Chargers @ Steelers
– Bears @ Giants
– 49ers @ Seahawks
– Vikings @ Patriots
– Saints @ Cowboys
We then move on to College Football, previewing the following games for Championship Week:
– Alabama vs Georgia (SEC Championship)
– Texas vs Oklahoma (Big 12 Championship)
– Memphis vs UCF (AAC Championship)
– Ohio St vs Northwestern (Big 10 Championship)
– Washington vs Utah (Pac 12 Championship)
– Fresno St @ Boise St (MWC Championship)
– Pitt vs Clemson (ACC Championship)
– Stanford @ Cal
– UAB vs MTSU (C-USA Championship)
And we pick these games against the spread:
– Northwestern vs Ohio St
– Memphis @ UCF
– Texas vs Oklahoma
– Stanford @ Cal
– E. Carolina @ NC State
– Stanford @ Cal
– Pitt vs Clemson
– Marshall @ Virginia Tech
– Washington vs Utah
———-
► Football Picks Contest!
Winner gets a different prize each week! Enter here: http://www.winningcureseverything.com/fb-picks-contest
► Site: http://www.winningcureseverything.com
► YouTube: http://www.youtube.com/winningcureseverything
► Store: http://www.winningcureseverything.com/store/
► Podcasts: http://www.winningcureseverything.com/podcasts
► Facebook: http://www.facebook.com/winningcureseverything
► Twitter: http://www.twitter.com/winningcures
Gary's twitter: http://www.twitter.com/garywce
Chris's twitter: http://www.twitter.com/chrisbgiannini