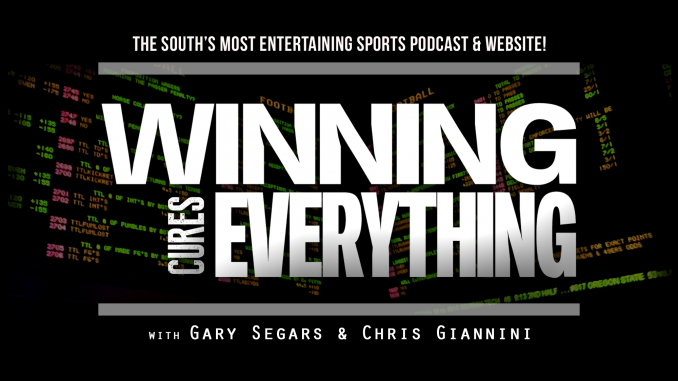 Keep up with our podcasts!
Enter your e-mail, and we'll let you know what's going on at WCE a couple of times a month!
It's the week before Christmas, and Gary & Chris are recapping NFL Week 15, and previewing and making picks for NFL Week 16, along with our College Football bowl game gambling picks for Dec 20-22nd.
In the recap, here are the topics they discussed:
– Chargers vs Chiefs was epic
– Derrick Henry is a grown man breaking records
– The Patriots were less than disciplined against the Steelers, and did not execute like we're used to
– Nick Foles is back, making people look like fools – this time he took down the Rams in LA
– the Bears wrapped up the NFC North with a win over A-Rod & the Packers
– the Cowboys got shut out by the Colts
– the Panthers made the Saints look pedestrian… and still lost
– Bakermania in Cleveland is at a feverpitch right now
– Lamar Jackson is 4-1 as the starter for the Ravens, who are now shopping Joe Flacco
The NFL Week 16 preview covers these games:
– Steelers @ Saints
– Ravens @ Chargers
– Chiefs @ Seahawks
– Texans @ Eagles
– Redskins @ Titans
– Bears @ 49ers
– Giants @ Colts
– Broncos @ Raiders
NFL Week 16 Gambling Picks (Against the Spread) include these games:
– Ravens @ Chargers
– Packers @ Jets
– Bills @ Patriots
– Texans @ Eagles
– Chiefs @ Seahawks
– Bears @ 49ers
– Jaguars @ Dolphins
– Rams @ Cardinals
– Bucs @ Dallas
– Bengals @ Browns
And finally, the College Football Bowl Game gambling picks (against the spread) for the bowls Dec 20 through Dec 22 include these games:
– Toledo vs FIU (Bahamas Bowl)
– BYU vs Western Michigan (Potato Bowl)
– Memphis vs Wake Forest (Birmingham Bowl)
– Troy vs Buffalo (Dollar General Bowl)
– Hawaii vs Louisiana Tech (Hawaii Bowl)
———-
► Football Picks Contest!
Winner gets a different prize each week! Enter here: http://www.winningcureseverything.com/fb-picks-contest
► Site: http://www.winningcureseverything.com
► YouTube: http://www.youtube.com/winningcureseverything
► Store: http://www.winningcureseverything.com/store/
► Podcasts: http://www.winningcureseverything.com/podcasts
► Facebook: http://www.facebook.com/winningcureseverything
► Twitter: http://www.twitter.com/winningcures
Gary's twitter: http://www.twitter.com/garywce
Chris's twitter: http://www.twitter.com/chrisbgiannini