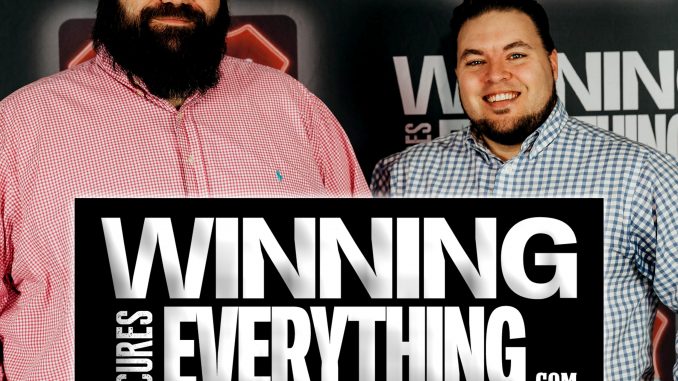 Keep up with our podcasts!
Enter your e-mail, and we'll let you know what's going on at WCE a couple of times a month!
Chris jumps back into the fold with Gary to discuss a bevy of topics, including:
– The Alliance of American Football got a $250M investment from Carolina Hurricanes owner Tom Dundon, but did he really save the league?
– Reactions to the first 2 weeks of the Alliance of American Football.
– College Basketball National Championship futures odds, 1 month away from the NCAA tournament.
– College Football 2019 National Championship futures odds, along with which teams belong, which don't, and why some perceived "better" teams have longer odds.
– Bill Connelly's initial S&P+ rankings for the 2019 College Football season, and our thoughts on the teams' analytical rankings.
Get daily gambling picks here! http://www.winningcureseverything.com/gambling-picks
———-
► Find out more about Tunica, MS sports books!
https://www.tunicatravel.com/sports-books?utm_source=Winning%20Cures%20Everything&utm_medium=Banner%20Ads&utm_campaign=WinningCuresEverything.com&utm_content=Sports%20Book%20Landing%20Page
► Site: http://www.winningcureseverything.com
► Picks: http://www.winningcureseverything.com/gambling-picks
► YouTube: http://www.youtube.com/winningcureseverything
► Store: http://www.winningcureseverything.com/store/
► Podcasts: http://www.winningcureseverything.com/podcasts
► Facebook: http://www.facebook.com/winningcureseverything
► Twitter: http://www.twitter.com/winningcures
► Gary's twitter: http://www.twitter.com/garywce
► Chris's twitter: http://www.twitter.com/chrisbgiannini
#WinningCuresEverything