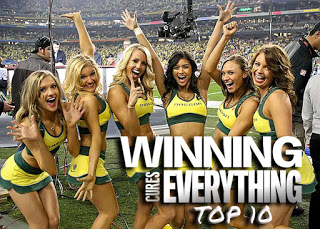 Week 12, supposedly cupcake Saturday, was anything but that for several teams. It's always interesting to see who can dominate their opponent without any kind of gameplan, or while they're looking ahead to another game.
This weekend was nothing like last weekend, where #2, #3, and #4 in the playoff rankings all were upset in the span of just a few hours. This week, however, we did see Louisville's playoff hopes die, and almost saw Ohio State's go down in flames as well, if not for a defensive stop on a late 4th quarter 2 point conversion.
You never truly know what's going to happen this late in the season, as evidenced by Ole Miss losing at Vanderbilt, Texas Tech getting demolished at Iowa St, and Texas losing to Kansas for the first time since 1938. Sometimes these cupcakes can be a little tough.
Share this post!
1. Alabama
Alabama didn't bother showing up for their game against UT-Chattanooga, the #11 team in the FCS rankings, and it showed early. UTC's players were very small and quick, and they ran off-direction plays that really gave the Tide's bigger linemen issues early on. It was interesting to see how a well coached FCS school would attack a much more talented team, and they had the gameplan down pat early on. But, as Alabama usually does, they slowly ground out a convincing 31-3 victory without having to show too much – running basically the same 7 plays over and over again, and not getting out of a base defense very often throughout the night. The players were obviously not fired up for this game, and it showed. But coming up this week, they'll be ready. It's the Iron Bowl, and they were already thinking about it before last night's game even started.
Next up: Nov 26th, Auburn
2. Michigan
The Wolverines were down 7-3 at the half to Indiana, and it looked like they could be in some serious trouble without their starting quarterback, but they ended up coming out strong in the 3rd quarter with 17 points, en route to a 20-10 win. The new QB, John O'Korn, went 7-16 for 59 yds passing, and ran the ball 6 times for 19 yards. The Michigan offense only mustered 284 yards, with 225 of it coming on the ground… but their defense held strong, only giving up 64 rushing yards, 255 total yards, and only 10 points. If Ohio St plays like they played this weekend at Michigan St, this game could end up being closer than the 6.5pt line indicates.
Next up: Nov 26th, at Ohio St
3. Ohio St
I still don't know what that was. I imagine the Buckeyes just did not respect Michigan St after the lousy season that Sparty has had, but they almost lost this one, if not for an interception on a 2pt conversion for the win with just over 4 mins left. Ohio St wins 2 straight games 62-3 (over Nebraska and Maryland) and then throws up a clunker in East Lansing. Are they just not great on the road in the Big 10? Was this just a scheduling issue and they were looking ahead to Michigan? Still not sure what this team is, which is discouraging to say going into the last weekend of the regular season. They're still 10-1 though, and the game against Michigan is still absolutely massive.
Next up: Nov 26th, Michigan
4. Clemson
Clemson went up big early and then coasted to a 35-13 win at Wake Forest, which wrapped up the ACC Atlantic for the Tigers. With Lamar Jackson's Cardinals getting obliterated at Houston on Thursday night, does this mean Deshaun Watson has a chance at the Heisman? My guess is no… but hey, weirder things have happened. This week's game against South Carolina is a little more interesting now that the Gamecocks have discovered a QB and an offense that can move the ball.
Next up: Nov 26th, South Carolina
5. Wisconsin
Wisconsin is in a weird spot. They're a fantastic team, and they're playing their best ball of the season, as of late, but if Ohio St beats Michigan, Ohio St will be 11-1, and the Buckeyes could get the Big 10's playoff berth because they own the head-to-head win from back in October in Madison. So Wisconsin is hoping that Michigan can pull out the win, so they can avenge their loss at the Wolverines earlier in the year. If Wisconsin beats Michigan in the Big 10 Championship game, the Badgers will, most-likely, end up in the playoff. Lots to hope for here.
Next up: Nov 26th, Minnesota
6. Washington
The Huskies got up off the mat after that disgusting performance against USC last week and beat up on Arizona St 44-18. But that still doesn't solve the issue of having to travel to Pullman and face Washington St in the Apple Cup this weekend. Win, and they're in the Pac 12 Championship game. Lose, and they, not-only, don't get into the playoff, but they don't even get a chance to win their own conference. A shocking development considering we've lauded them as the best team in that conference all season.
Next up: Nov 25th, at Washington St
7. Penn St
The Nittany Lions started slow at Rutgers, but busted out in the 2nd half and ran away with a 39-0 victory. They need Ohio St to beat Michigan so they can get into the Big 10 championship game. If they win the conference championship, it's a little more difficult to put Ohio St in over them, since they own the head-to-head win over the Buckeyes, even though Ohio St would have one less loss. A conference championship from that division could be the trump card needed to get into the playoff. They sit at 7, but they can end up ranked ahead of Michigan and Wisconsin, which would keep them at 5, so they really need Washington to lose, and Michigan to lose at Ohio St, to get into the playoff.
Next up: Nov 26th, Michigan St
8. Oklahoma
Oklahoma took advantage of West Virginia's turnovers in the first half and ran away with this thing. The sad thing is that the Mountaineers showed that they matched up with Oklahoma by roaring back from being down 34-0 to get within 41-28 with more than 10 minutes left in the game, but Oklahoma turned up the juice a little bit and ran away with a 56-28 victory in Morgantown in the snow. Oklahoma is now on an 8 game winning streak, and their offense is absolutely clicking on all cylinders. But I don't know how they find their way into the playoff without absolute chaos happening. There's a better chance that we'll see 2 Big 10 teams in the playoff than this Oklahoma team, thanks to the Sooners getting thrashed in their 2 marquee non-conference games against Houston and Ohio St. At least they'll get a chance to win the Big 12 outright with a bye this weekend before hosting Oklahoma St. Bedlam for the Big 12 title in Norman? Yeah, I'll take that.
Next up: Dec 3rd, Oklahoma St
9. Colorado
The Buffs defense played outstanding against Washington St, especially in the 4th quarter, holding them to 462 yards total offense, while Colorado's own offense hit for over 600 yards. They won the turnover battle and, after going down 24-21 in the 3rd quarter, ran off 17 unanswered points to get the win 38-24 at home in Boulder. This team is doing a good job of playing their way into the playoff conversation. Win at home next week against a Utah team that just lost to lowly Oregon in Salt Lake City, and their ticket is punched for the Pac-12 Championship game, where they'll have a shot against either Washington or the same Washington St team they just beat. Basically, CU fans… just win out and hope for chaos above you.
Next up: Nov 26th, Utah
10. USC
There's not a team in the country that I would take over USC right now, sans Alabama. Sadly, they started out with a rough stretch and without a QB, until Sam Darnold took over in the Utah game, which they lost closely after leading in the 4th quarter. This team is now 8-3 after starting the season 1-3, and they own wins over Colorado and Washington – 2 teams currently still ranked ahead of them. After a slow start, USC blew the doors off of UCLA last weekend, and now they get a 4-7 Notre Dame team coming to the Coliseum this weekend, while hoping for Utah to upset Colorado, so USC can win a tie-breaker and go to the Pac-12 championship game.
Next up: Nov 26th, Notre Dame