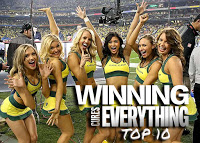 I should have had this posted yesterday, but I was headed to the Gulf for my honeymoon. Still found time to listen to and watch the South Carolina / Georgia game, and catch quite a bit of NFL action, so I could keep up with what's happening. Chris and I have gone through our top 10 lists and narrowed down what we think is going on in the top 10. 6 weeks into the season and it's already difficult to figure out what the Top 10 should look like. I would imagine it's going to be even more difficult after the next couple of weeks.
1. Alabama
Bama did what they were supposed to in disposing of Arkansas in Fayetteville, but they jumped out to a quick 35-10 lead before finishing with a 49-30 victory. Saban was visibly pissed about giving up 400+ yards passing, and that's to be expected, but the defense scored 2 more touchdowns. The offense was incredibly efficient, and had the team not started playing 2nd and 3rd teams so early in the 2nd half, this score could have easily been much worse. Now we get the tests… at Tennessee this week and hosting our #5 team Texas A&M the week after.
2. Michigan
78-0 over Rutgers. And it could have been way worse. If you don't understand why Harbaugh ran the score up… he's trying to establish a recruiting base in New Jersey. There were 50 recruits there for Rutgers, and a lot of players that Michigan wants. So they put a beat down on this team like they haven't seen there in a long time. The only reason we have them this high is the wins over Colorado and Wisconsin… both of which look really good right now.
3. Clemson
Clemson handled Boston College, at BC, 56-10. They appear to finally have things rolling, and it looks like there's not another team in the ACC that can match up with the Tigers. It looks like they may end up with Virginia Tech in the ACC Championship game… and that may end up being a good game, but right now, there's nobody on their schedule that's up to their level. The Louisville win is huge, and the Auburn win is looking better.
4. Ohio St
Ohio St's win over Oklahoma is looking better, and the 38-17 win over Indiana looks good right now, even with as mediocre as the team was playing. IU seemed to have the offense out of sorts a bit, and if not for having two short fields to work with (a 2-yd TD drive and a 5-yd TD drive) then this one may have been a lot closer. Ohio St looks good… but their schedule is just so awful.
5. Texas A&M
A&M survived at home against the "team of destiny" Tennessee, 45-38 in double OT. After leading 35-14 in the 4th quarter, the Vols mounted a comeback. A&M overcame a fumble on the 1 yard line when going in for the win-sealing touchdown, and they missed a 38 yd field goal at the end of the game that would have won it. But in OT, they did what they needed to do to pull out the win. So far, they've got wins over decent Auburn, UCLA, and Arkansas, and a good home win over a feisty Tennessee team that won't quit. Next up is the real test — a bye week before traveling to Tuscaloosa to take on #1 Alabama.
6. Washington
Washington finally got the Oregon monkey off their back with an emphatic 70-21 beatdown. Oregon is just a bad, bad football team right now. Washington is in a bit of a bind because there's not another team left on their schedule that is really a great team. They have to go undefeated to have a shot at the playoff, and, honestly, there's a chance that nobody on their schedule will be ranked at the end of the season. The CFP committee talks a lot about strength of schedule, and with how bad the Pac 12 has been, and the fact that Washington scheduled nothing but cupcakes for their non-conference slate, it will be interesting to see what the playoff committee does with this team at the end of the year.
7. Louisville
Louisville was off, but they still appear to be one of the top 10 teams in the country. Lamar Jackson is still the Heisman favorite. The game against Houston lost some luster thanks to the Cougs losing at Navy Saturday, but it will still be a helpful win, so long as Houston wins out until then.
8. Nebraska
Nebraska is kinda here by default. They had a bye this week, but they are undefeated, and play at scrappy Indiana next week. They haven't beaten anyone of note, but they haven't taken a loss yet, and that's what matters at this point in the season. It's going to get rough though, with games at Wisconsin and at Ohio St in the next 4 weeks.
9. West Virginia
West Virginia had a bye as well, but they're undefeated, and their wins over Kansas St and BYU look pretty good. They play their first road game next weekend at Texas Tech, and then thy host TCU before traveling to Oklahoma St. The fact of the matter is this: they could end up undefeated against a schedule that has no top 25 wins. And they haven't been nearly as dominant as Washington. Curious to see what the CFP Committee does with this bunch as well.
10. Tennessee
Hard to fault Tennessee in a 45-38 loss in 2OT at Texas A&M. They fought back from 7 turnovers in the game (SEVEN!), but they had almost 700 yds of total offense and really did everything they could. The luck ran out, and it will be interesting to see what this team can do at home this week, hosting #1 Alabama, after 3 straight weeks of emotional, physical football games while Bama has been feasting on less talented competition.