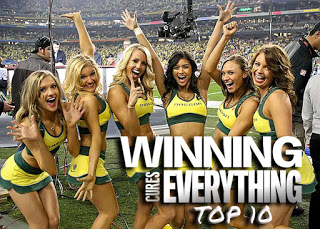 Lots and lots of blowouts meant not a lot of changes at the top. Nobody was really even challenged, aside from Alabama, who had a close tough battle in Baton Rouge against LSU. November is the crazy time of the year, and this weekend is when we should expect something crazy, with USC visiting Washington, Michigan traveling to Iowa, Clemson hosting Iowa, and Louisville, Auburn, and West Virginia all play decent, tough teams this weekend.
In the meantime, here's the WCE Top 10 after this week:
Offense wasn't great… but I don't know that anybody would be in that spot. The defense though. THAT was domination. Fournette, for the 2nd straight year, could barely get to the line of scrimmage before getting tagged. Last year, 19 rushes for 31 yards. This year, 17 rushes for 35 yards. I'll take it. Bama's offense left a lot of points on the field (a missed field goal, didn't convert on 4th and goal from the 1, etc), but eventually got the cover in this one to win 10-0. 6 straight wins over LSU is a pretty big deal in the SEC.
It was a fantastic game, and pretty much cemented that Alabama, so far this season, is the best team in the country. Now to head home to face an upstart Miss St team that just beat #4 Texas A&M.
Next up: Nov 12, Mississippi St
2. Michigan
Michigan absolutely lit up Maryland in the Big House, jumping on them 35-0 at the half, and finishing up 59-3. It was never close – not what I expected. Seems Maryland has come back down to Earth after looking decent early in the season.
Next up: Nov 12, at Iowa
3. Clemson
Clemson handled Syracuse this weekend 54-0, and that's after Deshaun Watson went out with an injury when they led 30-0 at the half. No idea what the extent of Watson's injury may be. The biggest thing here is that South Carolina is looking like they could be a sneaky-good football team, which could make the last game of the year a lot more interesting.
Next up: Nov 12, Pittsburgh
4. Washington
Washington did what they were supposed to do against a terrible defense, and basically scored every chance they got in a 66-27 win at Cal. Kinda thought Cal would keep this one closer, but their defense is soooo bad. Washington's next test is this weekend at home against USC, who is on fire lately with 5 straight wins.
Next up: Nov 12, USC
5. Ohio St
Ohio St knocked Husker QB Tommy Armstrong out of the game in the first half when it was 24-3. The injury looked absolutely terrible – had to cut his jersey and his facemask off, he left on a cart, etc. And Nebraska never recovered. Ohio St finally clicked after 4 straight weeks of not looking very good. 66-3 will change some minds, and don't be surprised if they're ranked ahead of Washington this week in the College Football Playoff rankings, due to strength of schedule.
Next up: Nov 12, at Maryland
6. Louisville
Lamar Jackson did what he does all over Boston College in a 52-7 route on the road. Louisville doesn't have many more challenges, and if Petrino can put up 100 points on Houston in a couple of weeks, he'll do it, just to prove a point. The only thing they can do now is gather style points, because the rest of the schedule is pretty bland. Wake Forest is going to a bowl, Kentucky is going to a bowl, Houston isn't terrible, but none of these are going to be really impressive wins for Louisville. If nothing else, it does help the strength of schedule at the end of the year.
Next up: Nov 12, Wake Forest
7. Wisconsin
Northwestern had been looking pretty great up until they ran into this defense. Wisconsin won another ugly game with defense and their running game. This team won't win any beauty pageants, and they won't be able to put up style points like Louisville, but they drag teams down into the mud with them and win more than they lose. This is one of 2 two-loss teams that could feasibly sneak into the playoffs, if they win the Big 10 conference.
Next up: Nov 12, Illinois
8. Auburn
Another 2 loss team that could sneak into the playoff if they win the SEC. With Texas A&M losing, if they get a win over Georgia, the Iron Bowl turns into the SEC West Championship game. Vandy is a tough matchup for any team, especially at 11am, but the Tigers got away with the win, and now gear up for a rivalry game in Athens. Biggest question mark about this team right now is the leg injury to Kamryn Pettway, who had turned into a massive threat for this offense, and really helped turn them around this year. It seems like their entire backfield has injuries so far this year. If they can hold up, they're one of the best in the country – if not, look out for Alabama's defense.
Next up: Nov 12, at Georgia
9. West Virginia
West Virginia disposed of Kansas, and sits at 7-1 overall, 4-1 in the Big 12. They still get to host Baylor and Oklahoma in Morgantown, but they've got a test at Texas this weekend, who is coming off of 2 straight close wins over Baylor and Texas Tech. Their running game is rolling right now and they're looking to save Charlie Strong's job. Not to mention, the Longhorns are undefeated at home. The Mountaineers are underdogs this week, but they're a different type of team than anyone else in the conference. Get this one, and win out, and hope for Oklahoma to beat Oklahoma St at the end of the year, and WVU can win the conference.
Next up: Nov 12, at Texas
10. North Carolina
Fedora's bunch rolled all over Georgia Tech this weekend, 48-20. UNC doesn't have any massive wins, and we almost put Penn St here, but the Tar Heels offense is clicking right now. UNC needs Virginia Tech to lose for them to get a rematch with Clemson in the ACC Championship game, but UNC's schedule to finish up looks pretty easy – at Duke, Citadel (who is surprisingly 9-0), and hosting NC State. This bunch should win out, and they're only a Georgia Tech or Virginia win in Blacksburg from heading to the ACC Championship.
Next up: Nov 12, at Duke