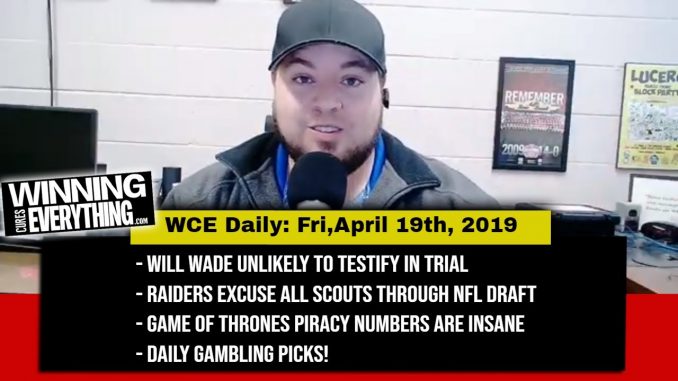 Sign up for our E-mail List!
Get our latest news once a week, including pick'em reminders!
On today's show:
● LSU's Will Wade is unlikely to testify at the federal corruption / college basketball trial at the end of this month, a judge ruled today.
● Jon Gruden and Mike Mayock sent home their scouts because of leaks, and the Oakland Raiders are officially a dumpster fire.
● Game of Thrones piracy numbers are INSANE.
● daily gambling picks!
Watch today's show on YouTube: https://youtu.be/d-pDBtuN_Tw
● Get our daily picks here: http://www.winningcureseverything.com/gambling-picks
———-
● Sign up at MyBookie.ag with promo code WCE50 for a 50% deposit bonus!: http://www.mybookie.ag
● Site: http://www.winningcureseverything.com
● Picks: http://www.winningcureseverything.com/gambling-picks
● YouTube: http://www.youtube.com/winningcureseverything
● Store: http://www.winningcureseverything.com/store/
● Podcasts: http://www.winningcureseverything.com/podcasts
● Facebook: http://www.facebook.com/winningcureseverything
● Twitter: http://www.twitter.com/winningcures
● Gary's twitter: http://www.twitter.com/garywce
● Chris's twitter: http://www.twitter.com/chrisbgiannini
#WinningCuresEverything