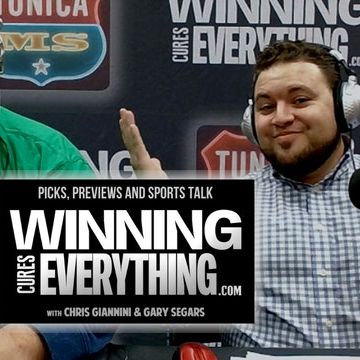 On today's show:
● Patrick Peterson, Arizona Cardinals CB, has been suspended for the first 6 games of the NFL season because he tested positive for performance enhancing drugs
● Brooks Koepka is slaying the field at the PGA Championship
● the Big 10 reported a big time increase in revenue for 2018's fiscal year… and it's way more than the SEC made.
● Arkansas has not paid any of Brett Bielema's buyout in 2019, and will not going forward due to a clause in the buyout contract.
● daily gambling picks!
Watch today's show on YouTube: https://youtu.be/NrpmehYtuvI
———-
● Sign up at BetNow.eu with promo code Winning50 for a 50% deposit bonus!: http://www.betnow.eu
● Get our picks here: http://www.winningcureseverything.com/gambling-picks
● Site: http://www.winningcureseverything.com
● YouTube: http://www.youtube.com/winningcureseverything
● Store: http://www.winningcureseverything.com/store/
● Podcasts: http://www.winningcureseverything.com/podcasts
● Facebook: http://www.facebook.com/winningcureseverything
● Twitter: http://www.twitter.com/winningcures
● Gary's twitter: http://www.twitter.com/garywce
● Chris's twitter: http://www.twitter.com/chrisbgiannini
#WinningCuresEverything