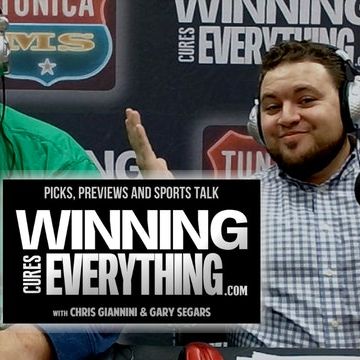 Keep up with our podcasts!
Enter your e-mail, and we'll let you know what's going on at WCE a couple of times a month!
On today's show:
– Tonight is Game 1 of the NBA Finals between the Warriors and Raptors, and I've got picks.
– ESPN, FOX & CBS Sports Network announced TV times for the 1st month of the college football season, and beyond
– I'm going to see Godzilla tonight… and they just announced a new Rambo movie called Last Blood?
– The Golden Nugget in Las Vegas released 100 College Football Games of the Year opening lines, so we'll obviously go over a few of those.
———-
● Sign up at BetNow.eu with promo code Winning50 for a 50% deposit bonus!: http://www.betnow.eu
● Get our picks here: http://www.winningcureseverything.com/gambling-picks
● Site: http://www.winningcureseverything.com
● YouTube: http://www.youtube.com/winningcureseverything
● Store: http://www.winningcureseverything.com/store/
● Podcasts: http://www.winningcureseverything.com/podcasts
● Facebook: http://www.facebook.com/winningcureseverything
● Twitter: http://www.twitter.com/winningcures
● Gary's twitter: http://www.twitter.com/garywce
● Chris's twitter: http://www.twitter.com/chrisbgiannini
#WinningCuresEverything