Wednesday, August 1st at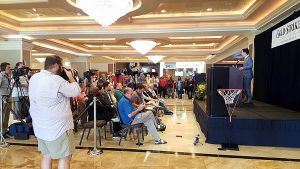 11:45am CT in Tunica, MS, the gathered crowd took their seats, and were quickly welcomed and greeted by Gold Strike President and COO, David Tsai.
Tsai, former Senior VP and CFO for Monte Carlo in Las Vegas, just joined Gold Strike 3 months ago, and has overseen the preparation for this region's first legal sports book.
Joining Tsai was a crowd of about 10 patrons / media members, along with Nolen Cannon, former MS Gaming Commission Chairmen & current member of the Tunica County Visitors & Convention Bureau, Lydia Graves Chassaniol, Republican State Senator from District 14, Cedric Burnett, Democratic State Representative from District 9, and Stanley Morgan, 4x NFL Pro-Bowler for the New England Patriots and former Tennessee Volunteer Wide Receiver.
Morgan made the first wager, which was a futures bet on the New England Patriots to win the Super Bowl.
From there, The Sports Book at Gold Strike was open for business.
Pictures of the actual wager window and odds board were not permitted, but I was able to grab pictures of the press conference, the lounge area, and the sports bar, which included multiple places to sit and watch games on almost 2 dozen televisions, along with a basketball quick shot game, a small putting green, and so much more.
For this to be put together in the short amount of time that it was, it is really remarkable.
Don't overlook the significance of this event.  This is the first day that sports gambling has been legal in the Southeast region.
For people that fell in love with Las Vegas and wagering on football many moons ago, the fact that something like this is right in our backyard… well, it's incredible that we've finally gotten here.
Watch the video above for the full tour and press conference, and then take a look at the pictures below to see what the new Sports Book at Gold Strike has to offer!  I know Chris and I will be spending many weekends in this location this football season.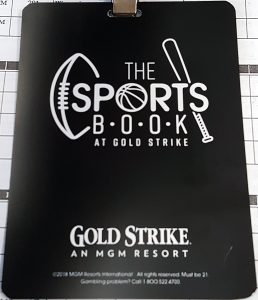 Below are some of the opening lines from the MGM / Gold Strike Sports Book.  Obviously, lines will change, and these are only a few of the options at the window. Click on the image to see it full size.