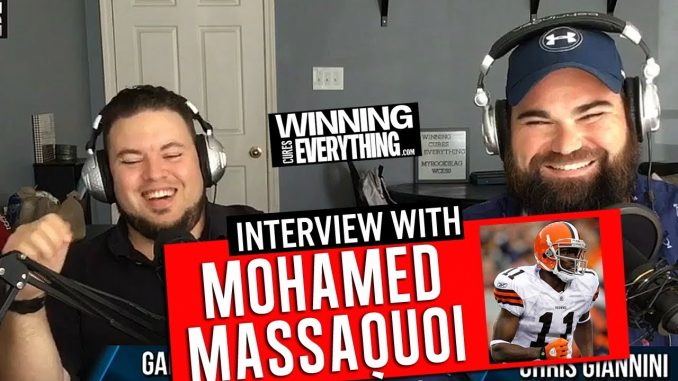 Listen on the podcast: http://winningcureseverything.com/wce-221-interview-with-mohamed-massaquoi-urban-meyer-scandal-mcgregor-jalen-hurts/
Gary and Chris welcome in former Georgia Bulldogs and Cleveland Browns WR Mohamed Massaquoi. The guys hit on a number of topics:
– his prosthetic hand (how he got it, how it works)
– thoughts on Joe Thomas's retirement
– how NFL draft night went for him, and his thoughts on being drafted by the Browns
– the difference between head coaches Mark Richt, Eric Mangini and Pat Shurmur
– how important position coaches are for players, compared to head coaches
– can he name all 7 Browns starting QBs he played with?
– during his Georgia career, why was his season high in receptions always against Georgia Tech?
– what is the rivalry like between Georgia and GaTech, compared to SEC rivalries?
– how did he get recruited to Georgia?
– what are his thoughts on 2018 SEC football season, specifically Georgia?
– picking over/under win totals for SEC teams
– thoughts on the Browns QB battle between Tyrod Taylor and Baker Mayfield
– what can we expect from the Cleveland Browns in 2018?