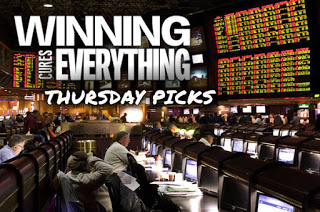 Good gracious. Life comes at ya fast, right? We are actually on the final weekend… CHAMPIONSHIP weekend… in college football. Yes, we have Army – Navy next weekend, and then we get plenty of bowl games to keep us occupied (and yes, we'll be picking bowl games throughout December), and we'll continue to pick NFL games… but we've really made it to the end of the season. And we've done fairly well, if I do say so myself. Between all of the games that we've picked against the spread, between our gambling picks and our big game picks, I'm now at 95-82-8 while Chris is at 83-95-7. We've both go a chance to hit over 100 wins before the NFL season is done. And that's a pretty big deal. On to the games for this week!
Share this post!
Gary's Gambling Picks
Current standings
CFB: 35-28-2
NFL: 12-13-1
1. Colorado (+7.5) vs Washington
This is more of a feeling than anything else. Colorado is the #1 defense in the Pac 12, giving up only 323ypg, and Washington is #2, giving up only 328ypg. Washington is the #4 offense, averaging 485ypg and Colorado is #5, averaging 470ypg. These teams are very, very evenly matched, and both of them lost to USC – Colorado only losing 21-17 at USC, while Washington got dominated at home 26-13. I absolutely love this line with the hook being just over a touchdown. I think Washington chokes in a big time situation (they've got more on the line than Colorado), and I could see where Colorado wins this game outright… but I love getting more than a touchdown here.
2. Oklahoma St (+11) @ Oklahoma
Both of these teams have been on a roll lately, with Oklahoma St winning 7 straight, and Oklahoma winning 8 straight. The Cowboys are giving up 27.2 ppg (good for 3rd in the Big 12) and 441 ypg (5th in the conference), while averaging 40.4ppg (3rd), and just over 500 ypg (5th). The Sooners are giving up 30.5 ppg (5th in the Big 12) and 443ypg (6th), and they're averaging 45ppg (1st in the conference) and 550ypg (2nd). Basically, two good offenses, and two defense that give up a lot, but not as much as the rest of the Big 12. Sagarin has this one with Oklahoma winning around 8 points… and I love the hook again – with it being just over a touchdown and a field goal. I think it will be a lot closer than people think.
3. Virginia Tech (+10) vs Clemson
Virginia Tech has the #17 nationally ranked passing defense, which is 22 spots better than any other team that Clemson has played (Louisville at 39). Without the ability to extend the field, it's going to come down to the Clemson rushing attack, which could still work with Watson and Gallman in the backfield, but on the season, the Tigers average 336 yds passing to only 172 yds rushing per game. To make matters worse, Virginia Tech only gives up 145yds rushing per game (good for 8th in the conference).
Looking at the numbers, between both offense and defense, I'm looking at this being about a touchdown game, and while Clemson is immensely more talented than Virginia Tech, I believe that the coaching advantage lies with the Hokies, between head coach Justin Fuente and defensive coordinator Bud Foster. I think VaTech has a chance at an outright upset, so I'll definitely take the 10 points here.
4. Temple (+3) @ Navy
Navy are the kings of running the football. However, Matt Rhule and the Temple Owls are a physical bunch that rank 2nd in rushing defense in the AAC, giving up only 120+ yds rushing per game. Temple is 1st in the conference in scoring defense as well, giving up only 17 ppg, which is a far cry from Navy giving up over 30 ppg. Temple has covered 11 straight games, winning 9 of them, and the losses were to Penn St, Memphis, and the 1st game of the season to Army. Navy is averaging a ton of points against really bad defenses… but Temple does not have a bad defense. Temple is undervalued here, and is actually favored to win by 3 over on the Sagarin ratings. I'm rolling with Temple here.
5. San Diego St @ Wyoming (+7)
I'm not going to get crazy here… San Diego St was favored by 10 at Wyoming 2 weeks ago, and they lost the game outright 34-33. Now, 2 weeks later, they're going back to Wyoming for the MWC Championship, and they're 7 point favorites again.
I'm not buying it. I think Craig Bohl will have the Cowboys ready to roll in this game – San Diego St hasn't looked the same, as of late, and Wyoming should be able to take advantage here. If you're really feeling lucky, you might even take them on the money line.
6. NFL: Lions (+6) @ Saints
The Saints are 8-3 against the number so far this year, including 7 of the last 8… but the Lions have won 6 of their last 7 games straight up, and covered 5 of those. There's no statistical reason for me to take this game, other than the Lions have been rolling, and winning games that they shouldn't, and there's something about a team that just has "it." I'm takin Matt Stafford and the Lions to stay within the 6 here.
7. NFL: Dolphins (+3.5) @ Ravens
The Dolphins have won 6 straight. If you think that's gonna end against the bum Ravens, you're crazy. I don't care if it's on the road, I think the Dolphins keep this train rolling.
Here are all of the picks:
| | | |
| --- | --- | --- |
| Gary | | Chris |
| Colorado (+7.5) vs Washington | | Va Tech +10 vs. Clemson |
| Oklahoma St (+11) @ Oklahoma | | TCU -4.5 vs Ka St |
| Virginia Tech (+10) vs Clemson | | Ok St +11 @ Oklahoma |
| Temple (+3) @ Navy | | NFL: Broncos -4 @ Jags |
| San Diego St @ Wyoming (+7) | | NFL: Dolphins +3.5 @ Ravens |
| NFL: Lions +6 @ Saints | | NFL: Jets +2 vs Colts |
| NFL: Dolphins +3.5 @ Ravens | | NFL: Eagles -1 @ Bengals |
Head to Head matchups
The week's biggest games in CFB and the NFL.
| | | | | | |
| --- | --- | --- | --- | --- | --- |
| | | Gary | | Chris | |
| 12/2 | Colorado vs Washington (-7.5) | Colo +7.5 | | Colorado +7.5 | |
| 12/3 | Oklahoma St @ Oklahoma (-11) | Okla St +11 | | OK St +11 | |
| 12/3 | Florida vs Alabama (-24) | Alabama -24 | | Bama -24 | |
| 12/3 | Penn St vs Wisconsin (-2) | Penn St +2 | | Wisconsin -2 | |
| 12/3 | Virginia Tech vs Clemson (-10) | VaTech +10 | | Va Tech +10 | |
| 12/4 | NFL: Chiefs @ Falcons (-4) | Chiefs +4 | | Falcons -4 | |
| 12/4 | NFL: Giants @ Steelers (-6) | Steelers -6 | | Giants +6 | |
The reasoning behind my picks:
I discussed Colorado and Washington at the top of the page, but, to break it down, Colorado has one helluva defense, and I love the fact that I'm getting the hook here.
Also discussed this one at the top – these 2 teams are both rolling, both offenses are great, both are not great on defense (although Oklahoma St is better), and I think it will be well within the 11 points. An outright upset here is not impossible.
I don't see how Florida is going to score on Alabama's defense, and I don't see how Florida's banged up defense will be able to slow down Bama QB Jalen Hurts. The running game, passing game, and read-option game are all flowing right now, and the only way this game gets within this 24 point margin is with turnovers. I don't think Saban lets that happen this week. I think Alabama could shut them out.
Penn St are the kings of halftime adjustments – and they've also turned into the kings of the big play. Wisconsin is not an explosive offense, but Penn St finds big plays throughout the game and will take advantage. The game against Ohio St turned things around for them and they opened up the playbook, trusting McSorley, their QB, with throwing down the field, and it's opened up more big running plays as well. Wisconsin is a ground and pound kinda team that, I believe, will be taken advantage of in this one.
Virginia Tech has the best passing defense that Clemson has played all year, which isn't good for the Tigers, since they're not exactly known as being a rushing offense. If they can't throw the football, that locks down their ability to create on the ground as well. Not to mention the fact that the Hokies offense has been clicking lately, averaging 34ppg in winning 5 of their last 6, while also ringing up an average of 486ypg. I think these teams are a lot more evenly matched than people think, and I believe the coaching advantage lies with the Hokies' Justin Fuente and Bud Foster. They may not get the outright win, but it's going to be closer than 10 points.
The Chiefs have started moving the ball fairly well, showing up in a big way when they needed to against the Broncos on Sunday night, and their defense has all the tools to slow down the Falcons. Even if they don't get the win, I think this is a field goal game at most.
I don't think the Giants are as good as their 6 game winning streak would have you believe, and while the Steelers have won 2 in a row over really bad teams, it may have been just what was needed to spark a lil confidence in that offense. Not to mention the Steelers tend to show up big in primetime spots, especially at home. Steelers will win by at least a touchdown.


Share this post!