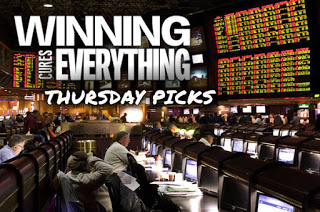 The closer we get to the end of the season, the more in-tune the lines on these games seem to be. Everything seems right on the number, and really really close to what the FPI and the Sagarin rating would be, with adjustments due to injury, etc (like Texas A&M opening as a 20 pt fav over Ole Miss after Chad Kelly was announced as out for the year, then it dropped to 10 when Trevor Knight was announced out as well). So this is where you have to really really look for good value on picks – teams that haven't been performing well vs teams that are, etc.

Last night I was able to hit on Eastern Michigan +1.5 at Ball St because EMU has been playing much better, and Ball St has been pretty awful since about week 5. Talent level was about equal, but EMU has a good chemistry. It's all about line value at this point in the season. It's also about knowing which games to stay away from, because they could go either way depending on one mistake.
We've found some games that we feel good about this week… time to get back on the winning side of things!
Gary's Gambling Picks
Current standings
CFB: 27-21-2
NFL: 8-11-1
1. Wyoming (-7.5) @ UNLV
Wyoming is on a 5 game winning streak against the spread, and UNLV is 2-5 against the number in their last 7, including not covering the last 2 games. Wyoming is hot – Craig Bohl has this team believing that they're really really good, and they are absolutely rolling. UNLV has been over valued all season, and while they definitely could come up and make a game of this, especially at home at night, but I don't think they will. Wyoming is averaging 39.4 ppg on this 5 game winning streak, and UNLV (who is 2-6 against FBS schools) is averaging 26.5 in that span. I think Wyoming runs this team.
2. Illinois (+26) @ Wisconsin
Wisconsin as a 26 pt favorite is absurd. Wisconsin, against Power 5 teams, is averaging just over 17ppg. So, they're expected to win by 9 points more than they average. Basically, we cover at 31-7, and I'm cool with that, because Illinois will score at some point. It won't be much, but they've covered 3 of their last 4, and I think they stay within 26 here.
3. Cal @ Washington St (-14.5)
Mike Leach's Wazzou finally got back on track last week with a 69-7 shellacking of Arizona in Tuscon. They had not covered in 2 straight games, but they got that huuuuge win, and the offense looked absolutely outstanding. Cal gave up 66 at home to Washington last week, and the Bears play absolutely awful on the road. They'll be able to put up points, but not as many as you would think against an improved Washington St defense, and the Cougars will score at will on Sonny Dyke's bunch. I don't care about the hook here… we're looking at a huge win.
4. Michigan @ Iowa (+22)
This is Michigan's first true road game against a team that has won a Big 10 game. Now, it would not surprise me if the Wolverines absolutely blast Iowa, because they can't really score… but they've opened up in a few games this year, scoring 31 once and breaking 40 three times. Now, granted, they're all against weaker competition, but at home, at night, after getting blasted at Penn St last week, I think Iowa can at least keep this within 3 TDs. We win this game at 31-10. Think about the Michigan St game on the road a couple of weeks ago – I'm looking at the same kinda ballgame here.
5. Penn St (-7) @ Indiana
James Franklin has this team absolutely rolling right now. They've covered in 4 straight games, and the offense is absolutely rolling. Since beating Ohio St 24-21 (as 17 point underdogs), they've scored 62 against Purdue on the road, and 41 on Iowa at home last week. I think Indiana has started to come back down to earth, not covering in 3 of their last 4, and giving up points to basically everyone, including 36 at home to Maryland, and 27 at Rutgers. Penn St will score points in droves in this one, and Indiana won't be able to keep up.
6. NFL: Falcons (PK) @ Eagles
The Falcons have won 2 straight and seemed to fix their offense, scoring 33 and 43 the last two weeks after running through a gauntlet at Denver, at Seattle, and against the Chargers before that. The Eagles have lost 4 of their last 5, including 2 straight. This defense has started giving up points, and they don't look nearly as dominant as they did to start the season. Atlanta will score, and Philly can't keep up, and all we need is a win, so I'm rolling with the better team – the Falcons.
7. NFL: Broncos @ Saints (-2)
The Saints have been rolling, covering their last 5 straight, including wins over the Chargers and the Seahawks. After starting the season 0-3, they have now won 4 of their last 5 – the only loss being a close game against the Chiefs (who have won 17 of their 20 games). The Broncos are pretty bad on the road, and their running game has been pretty bad the last few weeks, and their defense has been INCREDIBLY susceptible to the run. The Saints aren't bad running the football, including having 100 yard rushers the last 2 weeks against the Seahawks and the 49ers. With the Saints rolling, and the Broncos coming back to earth, I think the Saints pull out the win, and I've got them at only 2 right now, so I feel confident that the Saints get this win by a field goal or a touchdown.
Our combined picks are…
| | | | |
| --- | --- | --- | --- |
| | Gary | | Chris |
| 11/12 | Wyoming (-7.5) @ UNLV | | UK +13.5 @ UT |
| 11/12 | Illinois (+26) @ Wisconsin | | S. Car +11 @ Florida |
| 11/12 | Cal @ Washington St (-14) | | WV +1.5 @ Texas |
| 11/12 | Michigan @ Iowa (+22) | | Miami -10 @ Virginia |
| 11/12 | Penn St (-7) @ Indiana | | Washington St. -14 vs Cal |
| | | | |
| 11/13 | NFL: Falcons (PK) @ Eagles | | Chiefs +3 @ Panthers |
| 11/13 | NFL: Broncos @ Saints (-2) | | Chargers -4 vs Dolphins |
Head to Head matchups
The week's biggest games in CFB and the NFL.
| | | | | |
| --- | --- | --- | --- | --- |
| | | Gary | | Chris |
| 11/12 | USC @ Washington (-8.5) | USC +8.5 | | Wash -8.5 |
| 11/12 | LSU (-7) @ Arkansas | Ark +7 | | LSU -7 |
| 11/12 | Minnesota @ Nebraska (-7) | Minn +7 | | Minnesota +7 |
| 11/12 | Auburn (-10) @ Georgia | UGA +10 | | Auburn -10 |
| 11/12 | Baylor @ Oklahoma (-14.5) | Okla -14.5 | | OU -14.5 |
| 11/13 | NFL: Cowboys @ Steelers (-2.5) | Steelers -2.5 | | Cowboys +2.5 |
| 11/13 | NFL: Seahawks @ Patriots (-7) | Pats -7 | | Pats -7 |
The reasoning for my picks:
USC, since turning the reigns over to Sam Darnold, has turned into a fantastic football team. They've now won 5 straight, and covered 4 of those 5 (not covering the -5 in the 21-17 win over Colorado). Their offense is averaging 40ppg in their last 5 games, while giving up only 19ppg. Washington is rolling, but Utah is the most difficult team they've played, but USC right now is playing better than Utah. I don't know that USC wins outright (although it wouldn't surprise me), but anything over a touchdown here feels good.

LSU, the last 2 years, has lost to Bielema's Razorbacks by 17 in each game – 17-0 two years ago, and 31-14 last year. Both have been ass whippings. The shine came off of LSU and Coach O with the loss at home to Alabama, regardless of how hard they faught in the game. It was hard hitting, very difficult, and they'll still be banged up in this game. And now they have to go to Arkansas, who just throttled Florida at home last week. Razorbacks confidence is up, Tigers' is down, and Arkansas plays well at home. And we've all seen what Arkansas does in November under Bielema. Don't be surprised if Arkansas wins this one outright.

Nebraska's QB is out, and their offense has no idea what's going on without him. They've been beaten up the last two weeks, and Minnesota is having a sneaky good season. Both teams are sitting at 7-2, and Minnesota has won 4 straight games. Surprisingly, the Gophers have only been underdogs twice this year, covering both times. They still have a shot to win their division in the Big 10, and if they win this one and when they host Northwestern next week, it'll come down to a final regular season game at Wisconsin. I think Minn comes out on fire in this one.

Georgia has won 8 of the last 10 against Auburn. And Auburn has not beaten Georgia in Athens since 2005. Georgia got a little of their mojo back with a win at upstart Kentucky, and Auburn was brought back to earth even in a win at home against Vandy. Vandy set a blueprint to slow down the rushing attack, and the fact that Pettway may be out for the Tigers is a bigger deal than people want to let on. Georgia isn't great, but Auburn isn't as good as they've looked for the past month. 10 points is way too many in Athens.

Baylor looked awful last week. TCU couldn't score on anybody for weeks, and then they exploded for 62 in Waco. Baylor's defense is atrocious, and Oklahoma's offense should have absolutely no problems with the Bears in Norman.

This is the week that the Cowboys run into problems. They're not going to go undefeated for the rest of the season, and the Steelers have a way of bouncing back after losses (unless it's the first game back for Big Ben after an injury, which this is not). The Steelers are at home and I think they get the win by at least a field goal here.

The Patriots are the best team in football, and the Seahawks defense has not been as good as people would have you believe. Seattle's offense is good, but this team is about as mediocre as they come. The Pats have covered 7 of 8 this year, and they're coming off a bye week. With this West Coast team traveling to the East Coast, take the Pats at home to cover the touchdown.
SEC Fantasy Picks
I have to win the last 3 weeks against Chris to win the series for the year. He is currently 6-4 against me in fantasy SEC football, but I feel good this week.
| | | | | |
| --- | --- | --- | --- | --- |
| Week 10 | Gary | 4-6 | Chris | 6-4 |
| QB | Kyle Shurmur Vandy | | Vandy Kyle Shurmur | |
| RB | Trayveon Williams A&M | | Bama Damien Harris | |
| WR | Malachi Dupre LSU | | Bama Calvin Ridley | |
| Defense/ST | Texas A&M | | Vandy | |