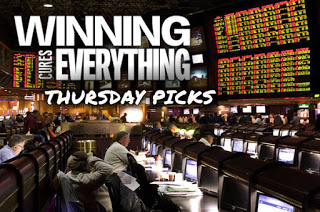 Chris has been on an absolute tear, going 7-2 against the number the last 2 weeks, but I got back in the winning column last week with a bad start, but a strong finish to close out 3-2 in college for the week. My NFL picks decided to bite me, missing on both gambling picks, but I have started to feel a little bit better about some of these teams this week, and I think I've got two winners.
This is the bad weekend of college football. Week 2 and this weekend, before the rivalry games, are the absolute worst, because you have very few competitive games, but it does make for some interesting gambling lines. And we're feeling GREAT about these lines.
Gary's Gambling Picks
Current standings
CFB: 30-23-2
NFL: 8-13-1
1. Duke (+7.5) @ Pitt
Duke has now covered the number 5 straight games, including an upset win straight up over North Carolina last week. The fact that I'm getting this game at more than a touchdown is bananas to me, but I feel like people may be overvaluing Pitt a little bit this week after their last second field goal win at Clemson. Duke is playing waaaay better, even if it hasn't always equated to wins, but Pitt is so fluky, especially at home, that I could see Duke even winning this game straight up. Luckily, I don't have to worry about that since I've got the hook here. Take the Blue Devils and the points.


2. Washington St (+4.5) @ Colorado
Colorado's defense has been playing absolutely lights out… but they haven't really played anybody. They've only played 2 good teams – Michigan ran them off the field, and USC was just getting into their groove after changing qbs – and they lost both games. I don't trust Colorado to be able to score enough points because Washington St has scored on literally everybody they've played, including the 2 games that they lost. Just the score differential in some of these games would be able to give you an idea. Colorado is 9-1 against the spread this year (only spread loss to USC by 1 point), so you know Vegas is trying to catch up to them, and both teams could be looking ahead since Washington St hosts Washington next week, and Colorado hosts Utah, both with opportunities to go to the Pac 12 Championship game, regardless of the outcome of this game. Looks pretty even, but I think Wazzou scores too many points for Colorado.
3. Ole Miss @ Vandy (+10)
This. is. a. trap. Ole Miss's season has been awful, but they got a nice turnaround last week with a last second win at Texas A&M, behind 23 points in the 4th quarter, and an incredible debut from their true-freshman QB Shea Patterson (who Hugh Freeze burned a redshirt season for). Vandy, of course, went the other direction, losing to the worst team in the SEC, Missouri, in Columbia. Ralph Webb is injured, so it will be running back by committee for Vandy. All of this sets up like Ole Miss should roll with their flashy new QB… but I've been watching SEC Football too long for that crap. Vandy will show up at home Saturday night and put at least a scare into Ole Miss, and if they're able to really move the football on the Rebels defense, they could even win the game straight up. So take the 10 points in Nashville for the Commodores.
4. Kansas St (-2) @ Baylor
Bill freakin Snyder. Only a 2 point favorite over a Baylor team that has lost 3 straight, that looks like they've just about quit, and they've got no QB? Gimme a break. I've told you for several weeks – this team has quit on their coaching staff, thanks to all the sexual assault mess that's going on in Waco around their coach, AD, and Chancellor's firings, and they don't even look like they want to play football. I'm sure Jim Grobe is ready to get out of there as well.
On the other side, Snyder's bunch has had two weeks to get over a close home loss to Oklahoma St, and they'll be ready to tear somebody's head off. Baylor is just the right kinda medicine.
5. Oklahoma St (+4.5) @ TCU
Oklahoma St has covered their last two instances as underdogs, and have won 6 straight games in the Big 12 after a loss at Baylor early in the year. This bunch is on a tear right now, and I think they'll continue on it – TCU is incredibly up and down, getting blown out 34-10 at West Virginia, losing at home to Texas Tech 27-24, and then beating Baylor 2 weeks ago 62-22 before getting a bye week. Just when they got their offese rolling, they had to take a week off, and I think Oklahoma St does the same thing here that I called for with Washington St in pick #2… TCU won't be able to score enough points to keep up with Oklahoma St. Take Oklahoma St to keep it within the 4.5.
6. NFL: Jaguars @ Lions (-6.5)
If there's one thing we can count on, it's the Jaguars getting absolutely blasted on the road by a decent to good football team. The Lions' offense has been great on year, and the Jaguars defense has gotten roasted by good QBs. Matt Stafford fits the criteria here. We can always count on Blake Bortles giving away points as well, so if he's throwing picks along with the Jags defense doing poorly, this has all the makings of a bloodbath.
7. NFL: Steelers (-9) @ Browns
Perfect turnaround spot for the Steelers offense here. The Browns are awful and have appeared to get worse and worse as the season has gone on. They have now lost 4 straight against the spread, and they haven't been pretty. The Steelers have also lost 4 straight against the number, but they're in a position to get their offense rolling after playing maybe the best team in the NFL last week, losing in the last 40 seconds at home to the Cowboys, who are on an 8 game winning streak. I think the Steelers make quick work of the Browns and jump on them the same way they jumped on the Chiefs earlier in the year before their slide started.
Our combined picks are:
| | | | |
| --- | --- | --- | --- |
| Gary | | Chris | |
| Duke (+7.5) @ Pitt | | Louisville -14.5 @ Houston | |
| Wash St (+4.5) @ Colorado | | Memphis -7.5 @ Cincinnati | |
| Ole Miss @ Vandy (+10) | | Nebraska-13 vs. Maryland | |
| Kansas St (-2) @ Baylor | | OK St +4 @ TCU | |
| Okla St (+4.5) @ TCU | | LSU -14 vs. FL | |
| | | NFL: Titans +3 @ Colts | |
| NFL: Steelers (-9) @ Browns | | NFL: Cowboys -7 @ Ravens | |
| NFL: Jaguars @ Lions (-6.5) | | NFL: Steelers -9 @ Browns | |
Head to Head matchups
The week's biggest games in CFB and the NFL.
| | | | | | |
| --- | --- | --- | --- | --- | --- |
| | | Gary | | Chris | |
| 11/19 | Florida @ LSU (-14) | LSU -14 | | LSU -14 | |
| 11/19 | Washington St @ Colorado (-4.5) | Wash St +4.5 | | Wash St +4.5 | |
| 11/19 | Oklahoma (-3) @ West Virginia | West Va +3 | | WV +3 | |
| 11/19 | Okla St @ TCU (-4.5) | Okla St +4.5 | | Ok St +4.5 | |
| 11/19 | Missouri @ Tennessee (-14.5) | Tenn -14.5 | | UT -14.5 | |
| 11/20 | NFL: Eagles @ Seahawks (-6) | Seahawks -6 | | Eagles +6 | |
| 11/20 | NFL: Packers @ Redskins (-2.5) | Redskins -2.5 | | Redskins -2.5 | |
This is my reasoning behind the picks, which, this week, appears to be about the exact same reasoning for Chris, since we only have one game picked differently.
LSU is absolutely rolling since Coach O took over, and Florida hasn't been able to score on anybody. I don't see any way they move the ball in Tiger Stadium against this defense, especially with a backup QB. Florida has looked bad, LSU has looked good, and the only saving grace for Florida has been their defense… but they're down a TON of starters this week, which is, put simply, not a good thing. LSU is gonna roll.

I already explained this one above, but I'll sum it up… Colorado has a good defense, but Washington St's offense is better. Colorado won't be able to score enough to keep up.

West Virginia has been waiting for this game all season, and Morgantown will be rocking. Oklahoma is on one helluva run right now, winning 7 straight games, and their offense has been absolutely dominant. But Iowa St laid out the groundwork to be able to slow this bunch down, and West Virginia has a great defense. I expect this game to be close, but everybody knows how much I love home underdogs, especially at night.

I explained this one above as well. Basically, Oklahoma St has won 6 straight, and TCU hasn't beaten a good team yet this year. I think Oklahoma St wins this one and sets up an awesome game for Bedlam.

There were very few good games worth picking this weekend, so we had to go with the same dregs that CBS had to roll with – Missouri at Tennessee. Tennessee's offense has finally figured things out, and Missouri, even with a win over Vandy at home last week, is still the worst team in the SEC. The only that could change this is if Tennessee finds out early in the game that Florida has won in Baton Rouge, which would eliminate Tennessee from the SEC Championship game. But I don't think that's going to happen. UT has to win out to get to Atlanta, and they're to step on the gas and not let up the entire game. 14.5 is not enough.

The Seahawks are rolling right now, after 2 straight primetime wins over Buffalo on Monday Night Football, and at New England on Sunday Night Football. The Eagles play absolutely awful away from home, and nobody really does well in Seattle. I'm glad we were able to get this one under a touchdown. Seahawks cover.

The Packers look atrocious right now. They may have fixed up the rushing game just a little bit by signing Christian Michael off waivers this week, after Seattle waived him, but I don't think it will be nearly enough. Washington is playing well this season, and Kirk Cousins should be able to move the ball effectively against what has turned into a pretty terrible defense. We got the hook here, so the Packers are on the road and the home team only has to win by a field goal to cover, and I feel good about that.
SEC Fantasy Picks
I stated last week that I have to win the last 3 weeks of the season to win our fantasy matchup… and I just barely squeaked out the win last week, in which we both scored our lowest totals of the season. It was putrid. But, it was a win for the good guys. haha. The season record now sits at 6 wins for Chris, 5 wins for me, and I'm feeling good about the next 2 weeks. Here's our lineups for this week:


| | | | | |
| --- | --- | --- | --- | --- |
| Week 12 | Gary | | Chris | |
| QB | Jake Bentley SC | | UGA Jacob Eason | |
| RB | Nick Chubb GA | | UK Boom Williams | |
| WR | Fred Ross Miss St | | A&M Josh Reynolds | |
| Defense/ST | Alabama | | Ole Miss | |