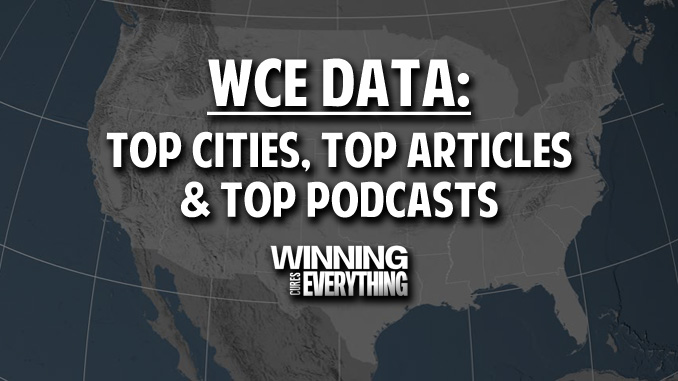 Want to know what cities are reading the site and listening to the podcast in November?  What about our biggest articles?  We've got them all listed here.  If you're looking for the best online sportsbook, you can find that at MyBookie.ag, and you can get a 50% deposit bonus over there right now by using promo code WCE50.
We moved the Winning Cures Everything website to a new host at the beginning of February this year, and we've continued to experiment with making it the best possible website it can be.
Since then, we have grown exponentially, and I cannot thank you guys enough for that.
We are now 10 months into this thing, so we wanted to give you an idea of where our traffic is coming from.
We are doing this every month, and we'll do a year long version in January.
These are the 4 things we will show you on this:
Top 25 Cities that have visited the website
Our Top 10 Most Read Articles
Top 25 Cities that listen to the podcast
Our Top 5 Most Listened-To Podcasts
Top Cities for the Website in November

1. Atlanta, GA
2. Hattiesburg, MS
3. Memphis, TN
4. Jackson, MS
5. Starkville, MS
6. Madison, AL
7. Dallas, TX
8. Flowood, MS
9. Nashville, TN
10. Tupelo, MS
11. New Orleans, LA
12. Oxford, MS
13. Olive Branch, MS
14. Ridgeland, MS
15. Birmingham, AL
16. Seattle, WA
17. Houston, TX
18. Austin, TX
19. Meridian, MS
20. Orlando, MS
21. Columbus, OH
22. Knoxville, TN
23. Charlotte, NC
24. Chicago, IL
25. Washington D.C.
Atlanta has always been our biggest market.  SEC melting pot down there, much the same as Memphis.  Hattiesburg, while the home of Southern Miss, is also an SEC hotbed spot for Miss St and Ole Miss fans.
We are hitting in some bigger markets again.  This time we brought in Dallas, Nashville, New Orleans, Birmingham, Seattle, Houston, Austin, Columbus (Ohio St country), Knoxville, Charlotte, Chicago and Washington D.C. (where a good number of the hits from there are coming from somebody in the White House).
Top Cities for the Podcast
1. Memphis, TN
2. Bowling Green, KY
3. Boca Raton, FL
4. San Jose, CA
5. Jackson, MS
6. Olive Branch, MS
7. Ridgeland, MS
8. Brandon, MS
9. Los Angeles, CA
10. Oxford, MS
11. Birmingham, AL
12. Hattiesburg, MS
13. Starkville, MS
14. Madison, MS
15. Tupelo, MS
16. Mountain View, CA
17. University, MS
18. Dallas, TX
19. Mississippi State, MS
20. Clinton, MS
21. Nashville, TN
22. Little Rock, AR
23. Ocean Springs, MS
24. Ashburn, VA
25. London, UK
The podcast cities are always different than the website cities.  We've got a much bigger stronghold in Memphis, our hometown, this past month.  Apparently my local promotions are working well here.
Not sure how Bowling Green, KY has jumped up so high this month.  Not sure what the stronghold SEC market is there.  Same with Boca Raton, FL and San Jose, CA.  Nice to see some international love with London jumping in at the bottom of the top 25 as well.
There really are SEC & College Football fans just about everywhere.
Top 10 Most Read Articles for Nov 2017
#1. 11/22: An E-Mail of Ole Miss Conspiracy Theories, with a Response from Tom Mars
#2. 11/21: Player claims deception by Ole Miss / Tom Mars responds to message board rumors
#3. 11/08: Why Mike Leach will not get hired for a bigger coaching job
#4. 11/10: Ole Miss vs NCAA: It's Been 8 Weeks. Where's the NCAA's Report?
#5. 11/17: Jon Gruden's Tennessee talk in Seattle DID make sense
#6. 11/07: New College Football Video Game is in the works
#7. 10/31: Coaching Candidates: Which Coaches Fit Best at Each SEC Opening?
#8. 11/01: Top 10 Best College Football Podcasts
#9. 09/23: Rutgers compared to Ole Miss, and why the NCAA might delay release of sanctions
#10. 02/23: Ole Miss vs NCAA: All Your Questions Answered
Top 5 Most Listened-To Podcasts for Nov 2017