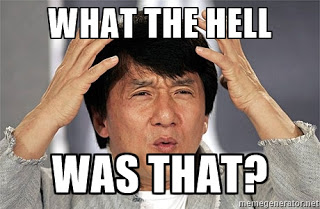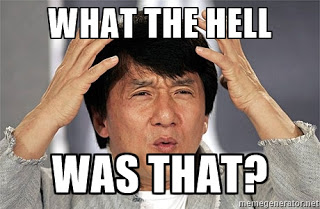 Let's start off by prefacing the face that I made a 16 to 1 odds bet that Rex Ryan would be the first coach fired this season. Sunday everything was looking pretty good. There are a few coaches who have me worried they might take Rex's place for that award but I think I ended the day feeling pretty safe. Then comes Monday Night…
The latest game possible, Jeff Fisher shows up and crashes my party! Get it together Jeff! What the hell was that? You couldn't score a single point on a BAD 49ner team? Are you trying to get fired? What did I ever do to upset you? I'm not the one who posted all those memes on line about July 9th or August 8th being Jeff Fisher days because you are insanely mediocre at your job. And you just got an extension this season; you have to actually work at getting fired the year immediately after getting an extension. But there is still time to turn things around. You can still right the ship, maybe. I don't think there are any teams on your schedule that will be easier than the 49ners other than the 49ners in LA. Rex is doing his part Jeffrey, I need you to get your head out of your ass and get out of my way of making back some of the money I lost.
And on to my Brownies, come-on! We couldn't beat the Eagles? The Eagles suck! I was with you with you made a move at head coach, and I love the Hue Jackson hire. I know this is a rebuilding year, but you have to give me something on Sundays. I never want to see a guy get hurt but we tried the RG3 experiment and it doesn't work. He's not good at football; which is tough, because that's what he does for a living. Josh McCown was a good QB for the Browns last year and can help them look respectable. I'm okay with loosing, I've gotten used to it. But being that bad is unacceptable. Get it together and show up at home this week against Baltimore. We open the season with the 2 worst teams we will play all year. We have to win 1 of those games.
Chuck Pagano and Ryan Grigson (Colts Coach and GM), what the hell are you doing? Do you actively hate Andrew Luck? Maybe you have a huge life-insurance policy out on him and you're hoping he gets killed? That is the worst offensive line play and the worst defense I have seen in a long time. If you think a great QB can over-come all those flaws look at Archie Manning. Short career that never amounted to anything because his team was just dreadful. That will be the legacy of Andrew Luck if he doesn't leave Indianapolis soon.
Oklahoma St Cowboys, what was that on Saturday? I don't care that 10 officials botched a rule that cost you the game. You deserve to lose that game! You played without heart and looked like you never wanted to be there to begin with. Then you cry and pout because the refs get a rule wrong and allow for 1 more play and you botch that! You are a better team than that, so figure it out and show up Saturday. Pitt is going to be better than Central Michigan. If you disrespect them you will find yourself spiraling down the toilet of the Big 12 and being compared to schools like Iowa St and Kansas.
Who will we question next? Will you find yourself at the bottom of a bottle next weekend trying to figure out where it all went wrong? We will have to wait and see.