We've still got a mess on our hands.
There are a ton of different scenarios that could happen after this weekend's games. First, let's look at the bracket, if the games were played today: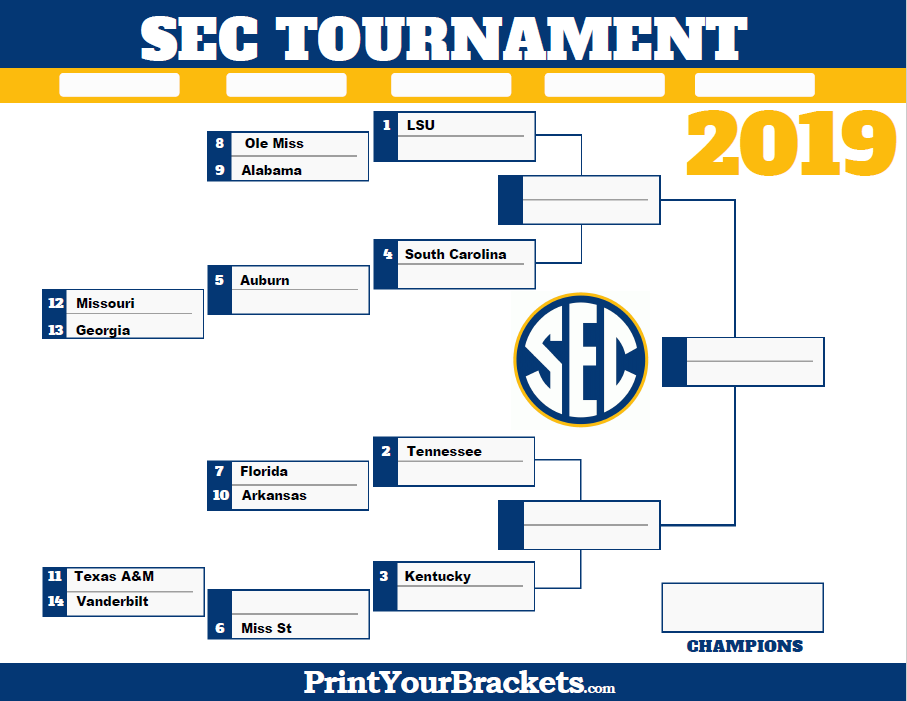 South Carolina owns the tie-breaker over Auburn (both are 10-7 currently), and Miss St, Florida and Ole Miss will slot in like that because Miss St is 1-1 vs Ole Miss, 1-0 vs Florida, and Ole Miss is 0-1 vs Florida.
Here's what Saturday's schedule looks like:
Tennessee @ Auburn
Georgia @ South Carolina
Texas A&M @ Miss St
Florida @ Kentucky
Ole Miss @ Missouri
Alabama @ Arkansas
Vanderbilt @ LSU
The scenarios for each outcome:
If Tennessee beats Auburn – Tennessee could end up with the 1 or 2 seed (depending on LSU), and Auburn could end up with anywhere from the 5 seed to the 8 seed.
If Auburn beats Tennessee – Tennessee ends up with the 2 seed. Auburn would have either the 4 or 5 seed.
If Georgia beats South Carolina – Georgia would still be the 13 seed. USC would be seeded either 4 or 5 (they hold tiebreakers over Auburn, Florida, Miss St, and Ole Miss).
If South Carolina beats Georgia – Georgia would still be the 13 seed. USC would get the 4th seed.
If Texas A&M beats Mississippi St – Texas A&M could get either the 10th or 11th seed (owns tiebreaker over Arkansas). Mississippi St could end up with seeded anywhere from 6 to 9.
If Mississippi St beats Texas A&M – Miss St ends up seeded either 5th or 6th. Texas A&M would keep the 11th seed.
If Florida beats Kentucky – Florida would be seeded either 6th, 7th, or 8th. Kentucky keeps the 3 seed.
If Kentucky beats Florida – Kentucky would be either the 2 or 3 seed. Florida would get anywhere from the 6 to 9 seed.
If Ole Miss beats Missouri – Missouri stays in the 12 seed. Ole Miss would get anywhere from the 5th to 8th seed.
If Missouri beats Ole Miss – Missouri would get either the 11 or 12 seed (own tiebreaker over Texas A&M). Ole Miss would be seeded anywhere from 6 to 9.
If Alabama beats Arkansas – Alabama is seeded anywhere from 6 to 9. Arkansas gets 10 or 11 seed.
If Arkansas beats Alabama – Arkansas gets 9 seed. Alabama gets 10 seed.
If Vanderbilt beats LSU – Vanderbilt remains in 14 seed. LSU could be either 1, 2, or 3 seed.
If LSU beats Vanderbilt – LSU is 1 seed. Vanderbilt is 14 seed.