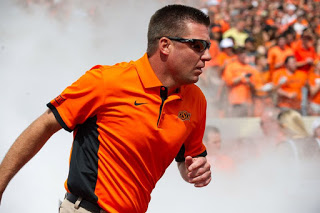 Les Miles was just fired during his 12th season at LSU. He was 114-34 during his time there.
Mike Gundy is in his 12th season at Oklahoma St. Yes, Gundy is the man who replaced Miles at Oklahoma St. He has gone 96-49 at Oklahoma St as head coach. He's had 10 wins in 4 of the last 6 seasons.
Now, as we all know, you don't leave a job where you're comfortable and there's not a lot of pressure. But in Stillwater, things are getting a little bit restless with Gundy and his bunch. This season they were on a shortlist of teams that could win the Big 12, but they have already lost 2 games – one at Baylor, which is understandable, and one at home on the last play of the game to Central Michigan (which was strange and shouldn't have happened). After winning 10 games last year and getting blasted in their last game at home against Oklahoma, and then getting rolled in the Sugar Bowl by Ole Miss, fans and boosters wanted a more positive start to the season.
Along with those issues, T. Boone Pickens, Oklahoma State's most wealthy and well-known booster, went on a podcast with the Austin American Statesman earlier this week and revealed a few things about his relationship with Gundy.
"I don't have any conversations with Gundy," he said. When asked if there's a rift between the two, he said "I don't know, but Mike doesn't handle people relationships very well. And he gets mad about things. I've heard he's written some notes about me that weren't very complimentary."
The two have had spats before, but things could be getting stale in Stillwater. The fans may be ready for somebody new after 12 seasons, and Gundy wouldn't be the homerun that LSU fans thought they could land, but it would be a fantastic hire and he'd excite the fanbase.
Gundy just signed a new contract extension to push him to $4.15M per year on average through the 2021 season, which was basically done to extend him past the 4 years he had remaining, in order to help with recruiting. Les Miles made $4.39M per year, so they will have to pay more than that going forward, but they were going to have to do that anyway, considering Les was 3rd in the SEC in pay, behind Saban (over $7M) and Kevin Sumlin (over $5M), and Auburn, Ole Miss, South Carolina, Mississippi St, and Georgia were all paying over $4M for their coaches just last season.
I haven't found anything updated, but Gundy's buyout in 2014 was only $3M. It may even be less now, but that's a number that is much more doable than, say, Bobby Petrino's $10+M buyout from Louisville.
For those who believe LSU will land a huge name, look at who other SEC schools ended up hiring when they got rid of somebody that had grown stale at their school – yes, LSU is a better job, but like I said, people don't leave comfortable jobs where they're making a ton of money to come battle in the SEC West unless there's something going on at their current job. Auburn fired Tuberville and ended up with Gene Chizik before Gus Malzahn. Florida had Urban Meyer retire, which led to Will Muschamp, and then had to hire Jim McElwain. Missouri ended up with Barry Odom after Gary Pinkel. Georgia hired Kirby Smart after cutting ties with Mark Richt. Tennessee fired Phil Fulmer, grabbed Lane Kiffin for a year, then grabbed Derrick Dooley, before ending up with Butch Jones. None of these were big names when they hired them, and those are all big programs that assumed they would land a major hire.
If you are one that's thinking that LSU will hit a homerun, the disconnect with administration down there doesn't do anything to help their chances with big time coaches, and the number of natural disasters in Baton Rouge won't help things either. Along with that, the way that Miles was let go in the middle of the season won't help lure guys who feel that Miles was disrespected after being there for so long and winning them a national championship and 2 SEC titles.
Tom Herman will more than likely take the USC job, if it comes open, or he may be able to grab Texas if things fall apart on Charlie Strong this year.
Nick Saban won't be coming back, for a myriad of reasons, including the fact that he's getting close to retirement and Tuscaloosa is closer to Lake Burton, and he recently moved his mother to Birmingham, so now both of his children and his mother all live in the same area.
Urban Meyer won't be coming down because he's already got a better, easier job in the Big 10, and he's at home (he's from Ohio).
Dabo Swinney won't be leaving Clemson for any other job besides Alabama – the ACC is an easier conference to win, he already makes a lot of money, and he's been there forever.
Petrino won't be coming because he has at least 1 more year of Lamar Jackson, and he has a $10M buyout, and he's indebted to Louisville for giving him a second chance to come back. And again, he's setup in the ACC, which is a power conference that's easier to win than the SEC West.
Jimbo Fisher won't be coming because he's recently divorced and his young kids are now based in Tallahassee, not to mention everything I already stated about the ACC, and the fact that Florida St has only had 2 coaches for the last 40+ years, so the pressure is not there.
College Football is a lot like college basketball. Everybody is making money now, so if you can get somewhere you're comfortable and there's not a ton of pressure on you, why would you make the move to the heater in Baton Rouge?
Now, these searches are always volatile. If this falls apart, names to keep an eye on would be Larry Fedora at North Carolina and Willie Taggart at South Florida. Fedora and the President at UNC were at odds a little bit before the season due to Fedora bringing in Tim Boeckman as a volunteer coach without her knowledge, and she called him out publicly for it, saying it was crazy. Taggart may want to make the jump to a major conference because USF is in the American Athletic Conference, and I don't see any way they move out of there anytime soon.
Then there's the normal ones that you've been hearing – Art Briles' odds may go up for grabbing the job if he's exonerated from all wrongdoing at Baylor, but currently, that's too risky of a situation to be involved with. Lane Kiffin has shown what he's capable of doing with a big time job (see USC from 2010 to 2013) and I don't know if LSU's administration would be comfortable with him. Ed Orgeron made the mistake of taking the Ole Miss coaching job before he was ready, and he may be much more prepared now than he was before (especially after going 6-2 as interim head coach at USC after Kiffin was fired in the middle of the season), but he's not the name that LSU wants.
Tiger fans want a proven, successful head coach. Mike Gundy fits that criteria.