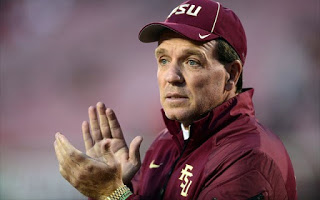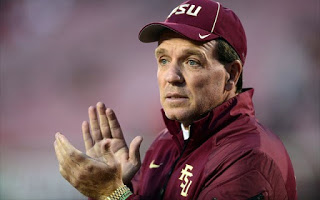 …and why does LSU want him?
He won a national championship in Tallahassee in 2013, and made the first ever college football playoff in 2014.
Those were Jameis Winston's only 2 seasons in CFB.
Those seasons went well, and with that national championship, Jimbo is one of only 4 active coaches that has that crystal football on his resume: Nick Saban has 5, Urban Meyer has 3, Jimbo has 1 and Bob Stoops has 1 (even though it was all the way back in 2000).
That's pretty select company.
So with that resume, Jimbo is currently being paid $5.1M per year at Florida St, with incentives that can boost that to $6.5M per year.
So why do people seem to think that he would want to leave Florida St for LSU, when he's already one of the top 5 highest paid coaches in NCAA Football?
And… since I may be the only person asking this, is he really worth all of that money?
Let's dive into the first question. This reasoning could go into the pro and con column at the same http://www.gossipextra.com/2016/01/04/jimbo-fisher-divorce-fsu-football-second-man-named-wife-paramour-owen-long-tennis-coach-5535/).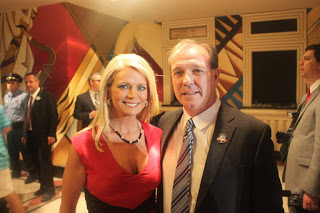 time: Fisher and his wife, Candi, recently divorced after rumors surfaced that Candi had a long-term affair with former Florida WR Taylor Jacobs and a shorter fling with former FSU tennis star Owen Long (read up on it here:
One of the reasons I believe he will stay in Tallahassee is because of his 2 young children: Trey and Ethan. Ethan was diagnosed in 2011 with Fanconi Anemia, an incurable rare blood disease that often leads to bone marrow failure and an increased risk of cancer. Jimbo is a family guy, and even considered resigning from Florida St after the diagnosis to make sure he could spend as much time with his children as he could.
On the other hand, for somebody that makes as much money as he does, a private jet to pick up his children to bring them to Baton Rouge is definitely attainable, but there's nothing like being in the same proximity as the kids, in case of any emergencies. Ethan is healthy right now, but eventually he won't be able to do the things he's doing now, like playing football, etc.
But with the marriage ending, and the amount of public drama that came out of it, leaving Tallahassee could seem like a good idea to a guy who was married for 22 years and is now faced with being single after the December 2015 divorce.

Another factor that has been brought up is his assistants not being paid enough. But upon doing further research, as of the end of the 2015 football season, Florida State's coaching staff is the 7th highest paid staff in the country, making a total of $4.28M combined per year, after last season's raises. His highest paid staff members are Offensive line coach / Assistant Head Coach Rick Trickett ($587,900), Co-Offensive Coordinator / Quarterbacks Coach Randy Sanders ($586,000) and Defensive Coordinator Charles Kelly ($583,000). To put that in perspective, though, they are ranked as the 43rd, 44th and 45th highest paid coaches in the country.
Doesn't seem like that much in comparison to other big time coordinators even in the ACC. At Clemson, defensive coordinator Brent Venibles made $1.4M in 2015, at Louisville defensive coordinator Todd Grantham made $1.3M, and Virginia Tech's Bud Foster made $910k. On the offensive side, Louisville's Garrick McGee made $854k this past season. Those are all substantially more than FSU's offensive and defensive coordinators.
So, is Jimbo tired of his assistants being under-paid? That's tough to say considering they are the 7th highest paid staff in the country. But the top 5 highest paid are in the SEC (LSU, Alabama, Georgia, Auburn, Texas A&M) and the 6th is Clemson. It doesn't seem that anybody is really leaving from the staff. Trickett has been at FSU for 10 years now. Randy Sanders has been there since 2013. Charles Kelly since 2013. Lawrence Dawsey, the other Co-Offensive Coordinator / WR coach since 2010. O'Dell Haggins, defensive tackles, has been there since 2006. Tim Brewster, the tight ends coach and recruiting coordinator (and former Minnesota head coach) has been there since 2013. There are other assistant coaches, but none make less than $400k per year, so they are all pretty well compensated.
He hasn't had a lot of overhaul, so this isn't a Bret Bielema type thing at Wisconsin, where he was tired of losing assistants to comparable jobs for more money. Wisconsin wouldn't pay their assistant coaches. Florida St does not seem to have that problem.
For the 2nd part of my questioning… how good is Jimbo Fisher, really? He is 75-17 overall, 4-2 in bowl games. Since becoming coach, when he's not had Jameis Winston at QB, he is 7-9 against ranked teams. With Winston, that total goes up to 15-10. So, with Winston at QB, he was 8-1 against ranked teams. That means he had more wins in just 9 games against ranked opponents than he has in 16 other games against ranked teams. Not great. He's 60-7 against unranked teams, 15-10 against ranked teams, 75-17 overall and without Winston leading the offense, he's 48-16 overall. That's still a winning percentage of 75% without Winston. But with only 25% of the games coming against ranked opponents.
Let's compare that to LSU over the same amount of time, with both Les Miles and Ed Orgeron coaching since 2010: 67-20 overall, 3-3 in bowls. They went 25-14 against ranked opponents. So that's 87 total games, and 39 of them against ranked teams. Now, this only counts teams that are ranked at the time of the game, but that's roughly 45% of their games coming against ranked teams. That means LSU went 42-6 against unranked teams. Obviously, Jimbo's record is better… but he's playing much worse competition every season at Florida St than LSU does in the SEC.
To sum this argument up: LSU plays 45% of their games against ranked opponents, while Florida St plays 25% of theirs against them. LSU has won 64% of their ranked games while Jimbo has won 60%, and that's with Jameis Winston at QB. Take out Jameis and his winning percentage against ranked competition drops to 44%.
So now we have 2 questions:
1. Why would Jimbo leave Florida St for LSU? and…
2. Why is LSU so enamored with Jimbo Fisher?
To answer the first question: the SEC is the SEC. It's easier to win in the ACC, for sure. But the SEC is the biggest stage in college football. If you're competitive, you get to go up against the best of the best every single week. The conference already has their own network. They've won 9 of the last 11 national championships, and the 2 that they didn't win were former SEC coaches that left for ACC and Big 10 powers. This is the premiere conference in the country. Money is absolutely rolling in, so you'll never have to worry about underpaying assistants, or whether you're being paid fairly because, chances are, you're being overpaid.
For the 2nd question… I don't really know. Yes, Jimbo was the offensive coordinator of the 2003 National Championship Team at LSU. Yes, it was time for Les Miles to go, and no, I don't suppose you'll get much better than what Jimbo has to offer, but why shoot for paying Jimbo crazy money when you may be able to get somebody just as good for significantly less. Truth is, without Jameis Winston rolling through, Florida St has just been a "good" ACC team. Not great. Definitely not dominant. And if he's not dominant on a smaller level, why turn over the keys to him when you'll have to sell the farm and pay insane money that you have never paid before, especially since you're already paying Les Miles' buyout on top of it?
All in all, I don't believe he leaves Florida St for the LSU job. His kids are in Tallahassee, he's got a lifetime job there, so long as he keeps winning at the current level he's winning. Bobby Bowden was the coach at FSU for 34 years. I don't know that Jimbo will be there for that long, but he is only 51 years old. He'd be 78 if he coached for that long.
I think LSU would do good with somebody like Ed Orgeron or Mike Gundy. Coach O is hungry to prove people wrong about him – to rewrite everything that he did wrong at Ole Miss 10 years ago, and he's proving that he knows how to motivate his players, especially with the beatdowns he's putting on teams so far this season. Mike Gundy needs a change of scenery from Stillwater. He was the replacement to Les Miles at Oklahoma St, and he's taken that job to heights it never reached under Miles. What could he do with the resources that LSU provides? Not to mention he and OSU's biggest booster have not been on very good terms for several years – imagine how much better he'd be with a community that works with him instead of talking bad about him. Both of these could be great choices.
I don't think LSU has to empty out the piggy bank to get a competent, successful head coach.
Share this post!