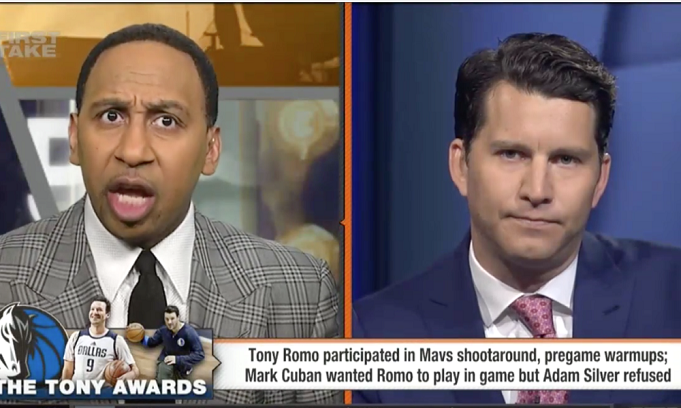 Will Cain, former CNN political analyst, is ESPN's right-wing answer to left-wing accusations.
Other media outlets have caught on to what ESPN has been doing since before last year's presidential election: their programming leans to the left and they don't try to hide it.
In a recent poll found through social media, 96% of sports writers voted Democrat in last year's election, and they provide a left-wing viewpoint (and ONLY that view) through most of ESPN's platforms.
Will Cain, hired to ESPN in May 2015 after being a political analyst for CNN and The Blaze, has started providing conservative takes to give something different than the Stephen A. Smith / Michelle Beadle / Jamelle Hill / etc liberal propoganda.
Truth be told, the majority of their viewers are older conservative white males, but the direction ESPN has taken, overall, is fully left-wing… the complete opposite of their viewership.
ESPN's ratings have taken a major league hit over the last few years (mostly due to cord-cutting), but it doesn't help that they don't provide their viewer base with things that they actually WANT to watch.  Here are just a few examples of things that have happened with ESPN.
all women's panel discussing Joe Mixon… MONTHS after the tape was released
ESPN awards "Caitlyn Jenner" an ESPY for Courage
ESPN covers & supports the Women's March after the Presidential Inauguration
Sage Steele speaks out in support of Republican views… and is replaced by Michelle Beadle
Curt Schilling fired after posting a conservative meme on his personal facebook page
Tennis announcer fired after using term "guerilla effect" in a Venus Williams tennis match, before doing any research, because twitter users were offended
have gone all-in on covering NFL QB Colin Kaepernick (protested national anthem) not being picked up as a free agent (even though he's terrible) while not even mentioning Jay Cutler (a vocal Republican)
That's only a few things that come to mind off the top of my head right this second.  And yes, I'm writing this in one sitting as it rolls through my head.
Nobody has covered this shift as much as Outkick the Coverage and Clay Travis.  Here are several articles he's written regarding this:
Viewpoints from most ESPN talking heads (Mike & Mike, etc) is usually pretty vanilla, or extremely left-wing, but lately, Will Cain has provided a more familiar view for the right-wing viewers.
For example, last week, Stephen A. Smith said that Tony Romo was getting preferential treatment by the Dallas Mavericks because he's white.  Will Cain absolutely went off, stating "What you just said is so much nonsense, and so much junk. To make this racial is so far beyond the pale that it makes real racial issues hard to pay attention to. It detracts."  It's things that the average joe is actually thinking.  Nobody else would have turned Tony Romo dressing out for the Mavericks in a promotional stunt into a racial issue, but Stephen A. Smith found a way to.  It's ridiculous takes like this that make viewers just want to turn off the television.  But Will Cain helped save it.  Just watch:
Today, after the announcement of Aaron Hernandez's suicide, he jumped on to Mike & Mike and provided the same kind of opinion.  Jump to the 22:53 mark of today's show and listen to what he says regarding Hernandez.
Hernandez was handed college scholarship, 40M contract, numerous mentors. He wasn't the product of lack of choices or guidance. He was evil.

— Will Cain (@willcain) April 19, 2017
Will Cain is ESPN's right-wing response where, in the recent, there have been no opinions from that side of the political equation.  Will it work?  Who knows.  People may be too far gone, and they may already understand the agenda ESPN is trying to push, but for those with conservative views, it must be nice to have their type of opinions expressed on this network along with the liberal propoganda.