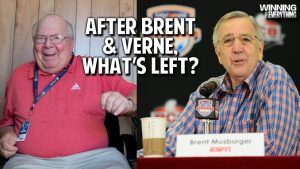 – Gary Segars (twitter: @proseveregary)
With Verne Lundquist getting his big send-off in his last season of calling College Football games, another of the sport's most iconic voices during television broadcasts decided to ride off into the sunset without all the hoopla, and Brent Musburger announced today that he'll be retiring from broadcasting at the end of January.
Lundquist will continue calling basketball games through the NCAA Tournament and will finish up his broadcasting career at the Masters on Sunday, April 9th.  Musburger is calling it quits with ESPN right in the middle of the college basketball season, calling his last game, between Kentucky and Georgia, on January 31st.
Share this post!
Musburger, 77, released this perfect statement:
 "What a wonderful journey I have traveled with CBS and the Disney company," Musburger said in a statement. "A love of sports allows me to live a life of endless pleasure. And make no mistake, I will miss the arenas and stadiums dearly. Most of all, I will miss the folks I have met along the trail.

"But the next rodeo for me is in Las Vegas. Stop by and we'll share a cold one and some good stories. I may even buy."
For anyone that's ever listened to him on Paul Finebaum's show, Musburger is a gambler, and he absolutely loves Las Vegas.  He's truly one of the best to ever call games, and he will be sorely missed.  Honestly, he's really been missed since the 2014 season, since ESPN put him on the SEC Network to call games between South Carolina and Kentucky, Mississippi State and Vanderbilt, or whatever the 4th best SEC game was each Saturday.  We would get him for some good bowl games here and there, but throughout the season, he was calling maybe the 8th or 9th best game of the day.
So with two of the sport's most iconic voices leaving before the 2017 season, what are we left with?  Who is the most iconic voice left in the CFB broadcast booth leading us into the future?  I've decided to rank them to give you an idea of what we're looking at for the years to come:
1. Brad Nessler w/ Gary Danielson (CBS Sports)

Brad Nessler, 60, the voice of EA Sports' NCAA Football, will be calling the SEC Game of the Week in place of Verne Lundquist this year, and they couldn't have hired a more iconic voice to do it.  Nessler is what's left of the old school regime.  He began his national career with CBS in 1990 and moved to ESPN in 1992, and stayed with the company until this past season.  His voice is synonymous with college football, and he and Danielson together should create an awesome team to carry the CBS SEC banner for years to come.
2. Chris Fowler w/ Kirk Herbstreit (ABC / ESPN)

Fowler and Herbstreit, along with Lee Corso, were the duo that really brought College Gameday to life over the past decade, although Fowler joined as host way back in 1990 (Gameday was started in 1987 with Tim Brando, Lee Corso, and Beano Cook).  Fowler has been known as a premiere voice for college football since the mid 90s, and took over ABC's primetime game with Kirk Herbstreit in 2014 after Musburger joined the SEC Network).  Fowler's wit, and his chemistry with Herbstreit, make them a great duo for the ABC Saturday Night games, along with the College Football Playoff National Championship games.  His voice is becoming iconic in its own right.
3. Gus Johnson w/ Joel Klatt (FOX)

Gus Johnson is known more for his March Madness (College Basketball) and NFL highlights, but Fox has teamed him with up-and-comer Joel Klatt for the Fox Saturday College Football games, which, this past year, included Ohio St @ Oklahoma, the Big 10 Championship game between Penn St and Wisconsin, USC @ Washington, and numerous other big games this year.  His excitement during games is infectious, and he's one of the only broadcasters out there that leaves you on the edge of your seat waiting for a big play just to hear his reaction to it, like the video above.
4. Joe Tessitore w/ Todd Blackledge (ESPN)

Joe Tessitore, for several years now, has gotten some of the best endings to college football games, whether it be RGIII's win over Oklahoma to secure the Heisman trophy, Arkansas's crazy 2OT win over TCU this season, Texas's 2OT win over Notre Dame to start the season (video above), or any other number of crazy close games that should have never been close.  Social media has taken notice as well starting #TheTessEffect for whenever he's calling a game.  To read up more on his effect on college football, read this:  http://www.si.com/college-football/2016/09/12/how-joe-tessitore-became-college-footballs-magic-commentator-punt-pass-pork
5. Tim Brando w/ Spencer Tillman (FS1)

Tim Brando started at ESPN in 1986, first as a host on Sportscenter, and, in 1987, he began hosting the first ever College Gameday show, which was in-studio at the time.  He hosted that for 2 years, and stayed on with ESPN until 1994.  He joined CBS Sports in 1996, calling football and basketball games, and doing studio hosting until 2014, when he left and joined Fox Sports for their new FS1 College Football broadcasts.  Tillman worked with him at CBS from 1999 until 2015, when he left and joined Brando at Fox.  Brando is another from the old school regime with an iconic voice, and, although he's calling some of the lesser games, his voice still makes the games watchable and entertaining – a reminder of college football years gone by.
Share this post!