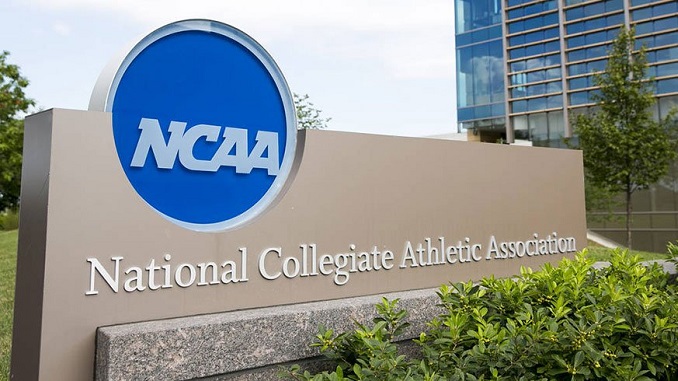 On Friday morning, Yahoo Sports writers Pat Forde and Pete Thamel released an article titled "Exclusive: Federal documents detail sweeping potential NCAA violations involving high-profile players, schools."
It's a splashy headline, for sure.
There are all kinds of things listed in these financial documents. There are expense reports with names and amounts, what the money was for, among other things.
Meals with current and former college basketball players and/or their families. Plane tickets. Loans. New shoes.
There's no denying that this is a massive story. The names, and what it all implies, is definitely damaging.
But that doesn't mean that the NCAA can necessarily do anything with the information.
Christian Dawkins, the one who brokered the deal with Adidas to get Brian Bowen to Louisville, among other issues, is at the center of the majority of this mess.
Dawkins is not exactly known as the most trust-worthy source.
ESPN's Jeff Goodman did a story on Dawkins back in October 2017 that explained a lot about who he is, and how he got involved.
By April 2014, Christian Dawkins was working as a runner for International Management Advisors, a Cleveland-based firm founded by former IMG employee Kurt Schoeppler. At one time, Schoeppler worked as NBA star LeBron James' financial adviser and was the controller listed on federal tax returns for the LeBron James Family Foundation.

In a May 2016 complaint filed in U.S. District Court for the Southern District of Indiana, Schoeppler accused Dawkins of working for ASM Sports, an organization run by agent Andy Miller, at the same time he was working for IMA. In the complaint against ASM and Miller, IMA's attorneys wrote that the firm had hired Dawkins as executive director of sports and entertainment in April 2014.

According to an employment agreement obtained by ESPN, Dawkins was paid an annual salary of $50,000, and IMA agreed to pay his expenses incurred while recruiting NBA draft prospects.

By January 2015, according to the complaint, "It became apparent that Dawkins was actually representing ASM's interests, not IMA's, when interacting with prospects, and he could no longer be trusted. … Thus, IMA began discussions with Dawkins to terminate his employment."

During negotiations to end Dawkins' employment, the lawsuit said, IMA calculated that Dawkins owed the firm $61,700 for improper expenditures. IMA and Dawkins agreed that he would sign a promissory note to repay the money, and IMA agreed to release him from certain noncompetition clauses in his contract.

Dawkins signed the termination agreement on Feb. 24, 2015, but never signed the promissory note, which was one of IMA's conditions for allowing him to join Miller's firm, the lawsuit said.
On College Gameday this morning, Jay Williams mentioned something that's been known about "runners" for a long time – they will expense out more than what they actually spent, in order to line their own pockets.
Stories have floated for months regarding Dawkins – he would go out with friends, ring up a huge tab, and then write it off as if he was meeting with somebody's father, or somebody close to a player, even though he never actually met with them.
There's no way to know, without corroborating with both sides, whether or not all of these meetings or exchanges actually took place.
Obviously, you'd have to be the most naive person on the planet to believe that NONE of it happened… but how do you know which ones?
The NCAA cannot use this "evidence" to punish any of the players or their institutions, currently.
The materials that were given to Yahoo sports were under a protective seal, so they were not supposed to be released to the public.
But at the same time, the NCAA has to get on-record testimony from the people involved, or some kind of proof that the players, and/or their family members, actually accepted the money, or accepted a meal from Dawkins.
The FBI is not interested in which kids were actually paid.
That's not what their case is about.
Their case hinges on the Universities.
Agents and Financial Advisors giving loans to players, directly, is not illegal.
Agents, Financial Advisors, and shoe companies giving state employees (coaches and assistant coaches, etc) money to try and bribe an athlete to sign with them, however, is illegal.
The truth of the matter is that this FBI case is only big because of the names around it.
But the names around it, honestly, have nothing to do with the case.
It is incredibly unlikely that the NCAA will ever get their hands on all of the evidence, because the FBI has no reason to give it to them.
That leaves this in the hands of the NCAA to figure out who is lying and who is telling the truth.
If people don't want to talk to the NCAA, if they're not still in school, then they are not required to. If they don't want to turn over evidence, they don't have to. The NCAA does not have subpoena power.
The majority of the names on this list are players that are already out of college, or will be next year.
So, while this sounds like a huge story, the truth of the matter is that there will not be much that comes from it, as far as NCAA punishments.