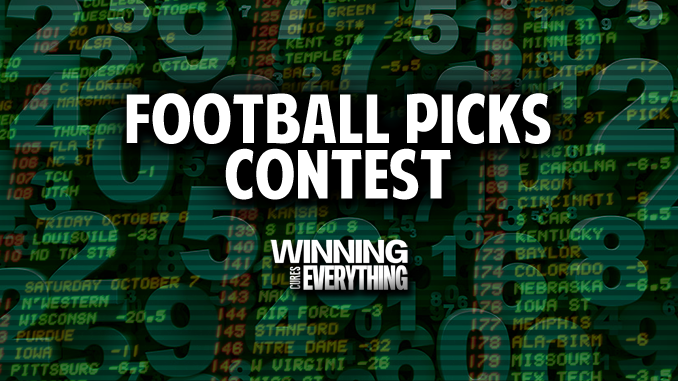 The Pick'em Contest is now open for the 2021 football season with BetUS.com!
This is the home of the OFFICIAL Winning Cures Everything Football pick'em contest.
Here's how this works:
Enter your name (or twitter handle) and e-mail address
Pick all 10 games against the spread
Guess the total number of points for the games we pick (for the tiebreaker)
Once you hit "Submit," check your e-mail to make sure you got a message with your picks! (it may end up in your spam filter)
That's it!  Entries close around 10am CT Saturday mornings.
Each week's winner will receive a different prize, which can be seen on that week's spreadsheet.
We will be posting each week's best sheet, so everyone can see how the week was won.
We will inform the winner by e-mail either on Sunday night or Monday, depending on how many entries we receive, to get your address, so we can get you your prize.
If you want help with your picks, you can always subscribe to the podcast, and listen to our gambling picks, or subscribe to our YouTube channel and keep up with them there.  You can also check out Gary on the BetUS College Football Show and Chris on the SBR College Football Show!
Go share the contest with your friends on Facebook, Twitter, etc, and get ready to see who has the best sheet!  Game on and best of luck!
The tiebreaker will be the closest to the total number of points in the 2 specified games.
In the unlikely event that we have multiple winners that have the exact same total points, I will contact the winners to discuss other prize options, as we'll always have something extra.
The form will allow you to enter more than once… but only your last entry will count in the contest.
By signing up for this contest, you're consenting to signing up for our e-mail mailing list.