It's the week of SEC Media Days, and we're waiting until next week to jump into all the big stories from there, so we're doing our WAY-TOO-EARLY College Football predictions on our two shows this week.  We begin by breaking down the Memphis Tigers 2017 football schedule, complete with predictions.
Chris believes in the Memphis Tigers this year… but as a run-of-the-mill bowl team.  A good team, but not elite.
Here are his predictions: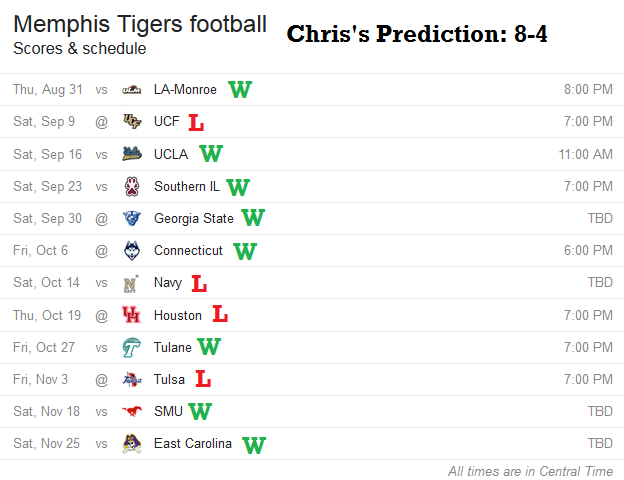 I am going the other direction.
I think Memphis will be unbelievable this season.
Let's go ahead and kick this off by showing you my prediction for the season: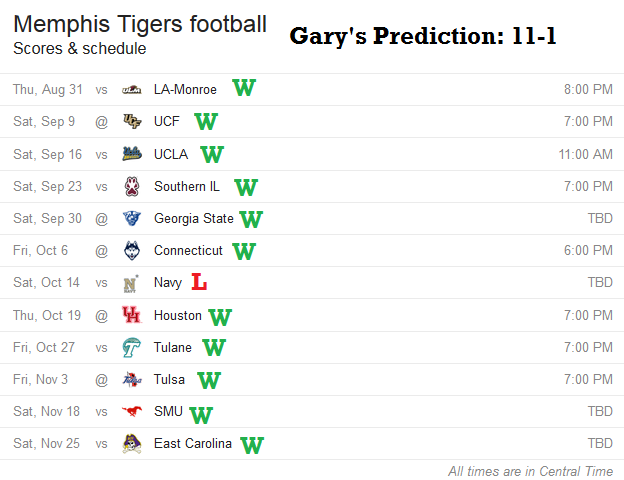 First of all, I know this makes me seem biased.  I'm not.
I have gone through and tried my best to figure out who will be the standout team that could do what Western Michigan did last season, and Memphis checks all the boxes.
Mike Norvell strikes me as one of the hottest young coaches in the country.
His 8-4 regular season last year, as a rookie, with a near-upset of South Florida and the upset of Houston, shows that he knows exactly what he is doing.
While the team lost 4 games last year, Norvell has upgraded the talent at Memphis.
In addition to that talent, this year he has a ton of experience coming back.
Memphis is the #6 most experienced team in FBS according to Phil Steele.
There are standout skill players all over the field, and the defense will improve.  That, along with a coaching change at Houston, and significant personnel losses at Tulsa, along with getting UCLA in an 11am CT game (9am local time for the Bruins) in September, sets this schedule up perfectly for the Tigers to really make some noise.
After going 11-1 this season, I'm going out on a limb and saying that Memphis beats South Florida for the AAC Championship.
That's 12-1, a top 15 ranking… and a New Year's 6 Bowl Game.
I think the Tigers end up in the Cotton Bowl on Dec. 29th.
Which also brings about a bit of bad news.  I believe Bret Bielema does not get things going at Arkansas, he is let go at the end of the season, and the Razorbacks bring Norvell home as head coach.
Remember, Norvell played college football at Central Arkansas, and his wife is from Fort Smith.
But for Tiger fans, I wouldn't worry about that just yet.  Enjoy the ride.  Right now, one of the brightest head coaches in the country is set up to do huge things this year.