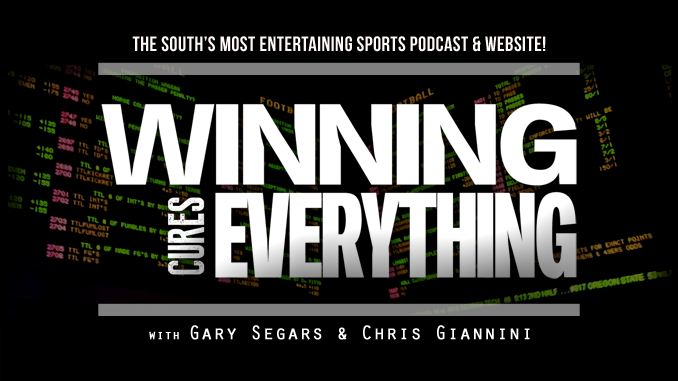 Keep up with our podcasts!
Enter your e-mail, and we'll let you know what's going on at WCE a couple of times a month!
Since Chris & I started this website, people have been asking for advice. Usually, it's what team to bet on this week. 'You got Patriots or Steelers?' 'Chicago or Detroit?' Let me tell you this. Where you're betting is just as important as who you're betting on. That's why I always tell people to go to MyBookie.ag. Right now, you can use promo code WCE100 for a 100% deposit bonus.

They have the fastest payouts – seriously, just two business days – and that 100% deposit bonus is epic.  That means whatever you deposit, they'll match it completely.  It's no different from betting in a glitzy Las Vegas casino, but you can do it right from your smartphone. Trust me, go to MyBookie.ag to place your bets, and tell them we sent you by using promo code WCE100 to get that 100% deposit bonus.  Right off the bat, you're making money for doing nothing. Get over there, and get the best odds anywhere!
On the Thursday, Sept 14th edition of the show, we jump into GET THAT MONEY – our College Footbal and NFL gambling picks show. We're going over these games:
Iowa St @ Akron
Kentucky @ Duke
Oklahoma St @ Pitt
Oregon St @ Washington St
Virginia Tech @ East Carolina
Texas @ USC
Clemson @ Louisville
Purdue @ Missouri
Titans @ Jaguars
Jets @ Raiders
Browns @ Ravens
Cardinals @ Colts
Eagles @ Chiefs
Bills @ Panthers
Follow us on Twitter: @GaryWCE / @ChrisBGiannini / @WinningCures
Leave us a voicemail: (551) 226-9899
E-mail the show: winningcureseverything@gmail.com
Check out the Website: WinningCuresEverything.com
If you're enjoying the show, please take a second to subscribe to the podcast and leave a review on iTunes! Those two things can really help us build up the audience. Thanks for your support!