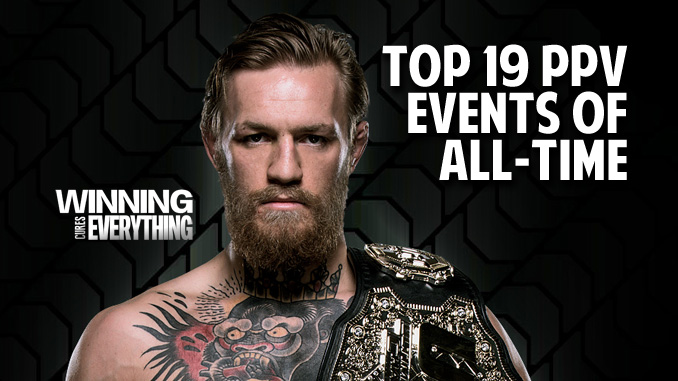 All of this talk about the possibility of a monster McGregor and Mayweather fight has gotten me interested in the idea of how many PPV buys this fight could actually do.
Make no mistake… it will be massive.  And probably the biggest fight ever.
I remember being so interested in the Mayweather / Pacquiao back in 2015 that my girlfriend (now wife) and I walked with a friend and watched the fight on a street corner in downtown Memphis on the back of a corporate tailgate, because every bar in the area was already filled to capacity.  All of Beale St was completely full, so we stood on the sidewalk for all 12 rounds to see what would happen… and we all knew Mayweather would win before the fight.  I think we were just hopefully that Manny would land one big shot.
I haven't watched many boxing matches over the past decade or so.  Very few, actually.  I remembered being enamored with Jermaine Taylor, until he was knocked out by Kelly Pavlik.  Currently, so far as the boxing world goes, I'm a big Deontay Wilder (37-0 / 36 KOs) fan, along with Canelo Alvarez (48-1 / 34 KOs) and Gennady Golovkin.  But these guys rarely fight.  Alvarez has had 4 fights in the last 2 years, and has one coming up May 6 against Julio Cesar Chavez, Jr (49-2 / 32 KOs).  Golovkin, who was pushing for a fight with Alvarez (who was pushing for a rematch with Mayweather), had 3 fights in 2015, 2 fights in 2016, and has one March 18 against Daniel Jacobs (32-1 / 29 KOs).  Deontay Wilder has had 2 fights canceled on him in the last year because his opponents kept taking PEDs.  He's had 3 fights in 2015 and 2 in 2016, with one coming up Feb 25th against replacement Gerald Washington (18-0-1 / 12 KOs).
None of those guys have been able to hit mainstream, so none are on this list.  It takes transcendent star power to make people interested enough to fork over an extra $50-100 to watch an event other than what's already on their cable.  Boxing used to be a much bigger sport, but that's given way to WWE and UFC.  Nobody gets into the boxing game anymore.
UFC have been the kings of pay per view for the past several years, but it's mainly due to the star power of fighters Ronda Rousey and Conor McGregor.  McGregor, alone, had more PPV buys in 2016 than the entire organization had in 2014, which leads me to believe that a fight with Mayweather, who is the must-see boxer of this generation, will be gargantuan as far as PPV buys and revenue.
So with that, I've compiled a list of the top 19 PPV events of all time (that I had to find and piece together).
Top 19 PPV events of all time
19. WrestleMania X-Seven
PPV Buys: 1.04M  Revenue: $55M
April 1st, 2001: WWE (at the time WWF) booked their absolute biggest stars for this one.  The headliner was Stone Cold Steve Austin vs The Rock, the undercard was Triple H vs The Undertaker, and it also included a street fight match between Vince McMahon and Shane McMahon.  Along with the 1.04 million people that bought the PPV, it also set a record-breaking attendance for the Reliant Astrodome of 67,925, which grossed an extra $3.5M from the gate.
18. UFC 193: Ronda Rousey vs Holly Holm
PPV Buys: 1.1M  Revenue: not disclosed

November 15, 2015: The most attended UFC event in the history of the company, with 56,214 people filling Etihad Stadium in Melbourne, Australia.  Holly Holm handed Rousey her first career defeat, and took the UFC's Bantamweight Title.  Rousey had reached legendary status at this point, winning several of her lead-up fights to this match by knockout in just a few seconds.
17. UFC 207: Ronda Rousey vs Amanda Nunes
PPV Buys: 1.1M  Revenue: not disclosed

December 30, 2016: Rousey returned to the cage for the first time in over a year to fight the current Bantamweight champ, Amanda Nunes, who knocked her out in just 48 seconds.  The fight took place at T-Mobile Arena in Las Vegas, with an attendance of 18,533 and a gate of $4.75M.
16. WrestleMania XVIII
PPV Buys: 1.25M  Revenue: $68M
March 17th, 2002: WWE again booked massive stars to make this thing massive, and it paid off in spades, and, to date, is still the biggest PPV event in their company's history.  This event set a record-breaking attendance for the SkyDome in Toronto of 68,237, and grossed an extra $3.9M from the gate.  The headline match was Chris Jericho vs Triple H, with undercards of The Rock vs Hollywood Hulk Hogan, Stone Cold Steve Austin vs Scott Hall, and Ric Flair vs The Undertaker.
15. Manny Pacquiao vs Juan Manuel Marquez III
PPV Buys: 1.25M  Revenue: $75M
November 12, 2011: This fight took place at the MGM Grand in Las Vegas, Nevada. Billed as The 25th Round Begins, this was a boxing championship bout for the WBO welterweight title, which Pacquiao won via majority decision.  Fans at the arena disagreed, thinking that Marquez won the fight, and threw beer and food at the ring after the decision was announced.
14. Oscar De La Hoya vs Felix Trinidad (boxing)
PPV Buys: 1.4M  Revenue: $71.4M
September 18, 1999: This was billed as the fight of the "millenium" to unify the WBC and IBF's world Welterweight championships.  It was planned by promoters Bob Arum and Don King, and pitted WBC world champion Oscar de la Hoya, a Mexican-American, versus Puerto Rican IBF world champion Félix Trinidad. It was the last of the so-called superfights of the 20th century.
13. Evander Holyfield vs George Foreman
PPV Buys: 1.4M  Revenue: $80M
April 19, 1991: Fought at the Convention Center in Atlantic City, NJ, and billed as "The Battle of the Ages", this fight was for the WBA, WBC, IBF and Lineal Heavyweight championships.  On October 25, 1990, Evander Holyfield defeated James "Buster" Douglas by third round knockout to become the Undisputed Heavyweight Champion. Prior to his match with Douglas, Holyfield delayed a potential fight with Mike Tyson, instead agreeing to face 42-year-old George Foreman for the titles should he defeat Douglas.  Since ending his 10-year retirement in 1987, Foreman was a perfect 24–0, with 23 of his wins coming via knockout. With Foreman's popularity at an all-time high, coupled with the fact that he could possibly become the oldest Heavyweight champion in boxing history, anticipation for the bout was high. As such, the two fighters received high payouts, Holyfield was guaranteed $20 million, while Foreman took home a guaranteed $12.5 million. Despite his age, the outspoken Foreman remained confident that he could dethrone Holyfield and in the months before the fight often said as much in the media.  Holyfield was able to win via decision, with the fight going the distance.
12. UFC 194: Conor McGregor vs Jose Aldo (MMA)
PPV Buys: 1.4M  Revenue: $90M
December 12, 2015: This was Conor McGregor's first title bout – a shot at the belt against Jose Aldo.  Aldo was supposed to fight McGregor at UFC 189, but he pulled out due to a rib injury, which McGregor said he used as an excuse to dodge having to fight him.  The fight took place at the MGM Grand in Vegas, and drew 16,516 people for a gate of $10.1M.  McGregor had a huge Irish draw to this fight, and his nationality always helps with his PPV numbers.  He took care of Aldo with one punch in :13 seconds when he knocked Aldo out cold.
11. Floyd Mayweather vs Sugar Shane Mosley
PPV Buys: 1.4M  Revenue: $94M
May 1, 2010: This was a non-title super fight, matching the unbeaten Mayweather against Mosley, who was supposed to fight Andre Berto in early 2010, but that fight was called off due to an earthquake in Haiti, in which Berto lost several family members.  Mayweather was the #2 pound-for-pound fighter, while Mosley was ranked at #3.  Mosley was already on the backside of his career, as he was 46-5, but was only 8-5 in his last 13 fights before he faced a 40-0 Floyd Mayweather.  The fight went the distance, and Mayweather won via unanimous decision.
10. Mike Tyson vs Peter McNeeley (boxing)
PPV Buys: 1.58M  Revenue: $63M
August 19, 1995:  This fight, at the MGM Grand in Las Vegas, was Tyson's first bout back after more than 4 years away from the sport, having spent more than 3 years in prison after being convicted of rape.  Peter McNeeley was not well known at all, even though his record was 36-1.  The fight went only 89 seconds, with McNeely having already been knocked down twice, the last by a vicious right upper cut, his manager Vinnie Vecchione entered the ring to prevent him from taking any more damage.  Mills Lane called off the fight at 1:29.
9. Mike Tyson vs Evander Holyfield I (boxing)
PPV Buys: 1.59M  Revenue: $79M
November 9, 1996:  This fight was originally booked in 1991, but Tyson was subsequently convicted of rape and was put in prison for over 3 years, which led him to spend more than 4 years away from the sport.  After his comeback fight against Peter McNeeley, Tyson knocked out Buster Mathis, Frank Bruno, and Bruce Seldon, which was for the WBA heavyweight title, before setting up the fight with Holyfield.  Holyfield had lost to Riddick Bowe in November of 95, and then knocked out his warm-up competition Bobby Czyz in May 96.  In the fight, Holyfield was able to defeat Tyson by TKO.  A lot of people believed Holyfield's "unintentional" headbutts (one of which drew a cut over Tyson's eye) were the reason Holyfield was able to win the championship fight.
8. UFC 100: Brock Lesnar vs Frank Mir (MMA)
PPV Buys: 1.6M  Revenue: $82M
July 11, 2009: UFC 100 was one of the most stacked cards in the history of the UFC, even today.  Not only was Brock Lesnar the headliner (as he was the biggest draw at the time, having carved a name for himself in WWE), but it also included Georges St. Pierre vs Thiago Alves, and Dan Henderson vs Michael Bisping, all of which were pretty well known names in fighting circles.  The card occurred at the Mandalay Bay Casino in Las Vegas, drawing 10,871 with a gate of $5.128M.  Henderson was able to knock out Bisping, GSP won by decision (which is kinda what he's always done, if he doesn't submit you first), and Lesnar TKO'd Frank Mir in the 2nd round.  It was the UFC's most successful event up until late 2016, when McGregor fought Diaz for the 2nd time.
7. UFC 202: Conor McGregor vs Nate Diaz (MMA)
PPV Buys: 1.6M  Revenue: $115M
August 20, 2016: McGregor had already lost to Diaz back in January at UFC 196, after Raphael Dos Anjos was not able to compete due to an injury.  With 2 weeks to go before the fight, Nate Diaz stepped up, and McGregor agreed to jump 2 weight classes (he was already planning to jump from 145 up to 155 for the Dos Anjos fight) to fight Diaz at 170 – a fight he was far from ready for.  Diaz is an underground favorite, drawing big numbers on UFC's cable shows, but never getting a chance as a headliner, and the UFC 196 numbers were great.  This fight took place at the T-Mobile Arena in Las Vegas, drawing an attendance of 15,539 and a gate of $7.692M.  The buildup was epic, with press conferences including shouting matches at each other, McGregor and Diaz's crew throwing water bottles at each other in the middle of the press conference, etc.  It was an amazing sales job, and the PPV numbers showed that.  The fight went the full 5 rounds, with McGregor bloodying up Diaz, but Diaz never being out of it.  Mid-way through the fight, McGregor seemed to tire, but Diaz was so beat up that he couldn't take advantage of the situation.  McGregor won by a majority decision.
6. UFC 205: Conor McGregor vs Eddie Alvarez (MMA)
PPV Buys: 1.7M  Revenue: $120M
November 12, 2016: This fight took place at Madison Square Garden and was UFC's first venture into New York, and it was a huge success.  McGregor's first fight in 2016, a loss against Nate Diaz in January, was supposed to be a title fight against Rafael dos Anjos, but dos Anjos was injured.  This was McGregor's shot at the UFC Lightweight Championship belt, to go along with his Featherweight belt.  The attendance at MSG that night was 20,427 and the gate set an all time MSG record at $17.7M.  Just astronomical numbers.  The undercard for this fight was a UFC Welterweight Title fight between Tyron Woodley vs Stephen "Wonderboy" Thompson, which went the distance and Woodley kept his belt via majority draw (47-47, 47-47, 48-47).  McGregor knocked out Lightweight Champ Eddie Alvarez in the 2nd round, and became the first UFC fighter to hold 2 belts simultaneously.
5. Mike Tyson vs Evander Holyfield II (boxing)
PPV Buys: 1.99M  Revenue: $100M
June 28, 1997: Known as "The Bite Fight," this match took place at the MGM Grand in Las Vegas and lasted only 3 rounds, and Holyfield won each of those rounds.  In the 2nd round, Holyfield headbutted Tyson (like he did several times in the first match), but it was, again, ruled unintentional, and in the 3rd round, Tyson took matters into his own hands.  Holyfield got Tyson in a clinch, and Tyson rolled his head around and bit off a 1-inch piece of cartilage from Holyfield's ear, which caused Holyfield to scream out, and they paused the round.  Both fighters went to their corners and it was determined that Holyfield could continue the fight.  Later in that same round, Tyson bit his other ear during another clinch, and referee called the fight, disqualifying Tyson.
4. Mike Tyson vs Lennox Lewis (boxing)
PPV Buys: 2M  Revenue: $150M
June 8, 2002: After the last Holyfield fight in 1997, Tyson did not fight again until 1999.  He had 2 no-contests, but won all of his other fights, and finally got a chance at the world championship again.  The fight was originally scheduled for April 6th in Las Vegas, but it was rescheduled after Nevada would not grant Tyson his boxing license after a press conference blowup between Tyson and Lewis.  Several other states would not grant Tyson a boxing license, but Tennessee granted it, and Memphis offered $12M to host the fight at the Pyramid.  It was the biggest PPV event in history, at the time, and the list of celebrities that attended was insane: Samuel L. Jackson, Denzel Washington, Tom Cruise, Britney Spears, Clint Eastwood, Ben Affleck, Hugh Hefner, Halle Berry, Richard Gere, Dwayne "The Rock" Johnson, Vince McMahon, The Undertaker, LL Cool J, Wesley Snipes, Donald Trump, Kevin Bacon, Chris Webber, Michael Jordan, Magic Johnson, Morgan Freeman, Alec Baldwin, and fellow heavyweight boxer Evander Holyfield.  It was, possibly, the biggest event to ever happen in the city of Memphis.  It wasn't much of a fight though – Tyson was outweighed by almost 16 lbs, and his height and reach were small compared to Lennox Lewis, who knocked out Tyson in the 8th round.
3. Floyd Mayweather vs Canelo Alvarez (boxing)
PPV Buys: 2.2M  Revenue: $150M
September 14, 2013: This fight took place at the MGM Grand in Las Vegas.  Both fighters were undefeated coming in, with Mayweather at 44-0 and Alvarez at 42-0-1.  This was one of the most decorated fights of all time with a number of recognitions between them:
Mayweather recognitions

WBA Super Welterweight (Super) Champion.
WBC Welterweight Champion.
Ring Welterweight Champion.
Ring No. 1 ranked pound-for-pound.
Ring No. 1 ranked welterweight.

Alvarez recognitions

WBA Super Welterweight Champion.
WBC Super Welterweight.
Ring Super Welterweight Champion.
Ring No. 9 ranked pound-for-pound.
Ring No. 1 ranked Jr. Middleweight.
The fight went the full 12 rounds, and Mayweather won a majority decision.  Media claims that Alvarez took this fight too early, and Mayweather will not schedule a rematch, although it's known that Alvarez has requested it.
2. Floyd Mayweather vs Oscar De La Hoya (boxing)
PPV Buys: 2.4M  Revenue: $136M
May 5, 2007:  Like most great fights, this one again took place at the MGM Grand in Las Vegas.  Oscar de la Hoya was the WBC Light Middleweight Champion, and Floyd was looking to get that belt.  It was a back and forth fight, going the full 12 rounds, and Mayweather won by split-decision.
#1. Floyd Mayweather vs Manny Pacquiao (boxing)
PPV Buys: 4.4M  Revenue: $400M
May 2, 2015: This fight had been talked about since 2009.  It took place at the MGM Grand in Vegas, and most people thought that Mayweather waited until Pacquiao had aged a bit before he would take the fight.  These are the 2 most decorated boxers in history, and the fight, billed as "The Fight of the Century," was mocked by fans as "Better Never Than Late" because of how much Mayweather ran and fought on the defensive.  Pacquiao had trouble landing punches and, for the most part, the fight was incredibly boring because of how much Mayweather ran away from Manny.  The build-up to the fight was great, and everyone wanted Pac to win, but Mayweather moved his record to 48-0, within one of tying the all-time best record of Rocky Marciano.