Ole Miss received their Notice of Allegations from the NCAA yesterday morning.  The University Chancellor Jeff Vitter, Athletic Director Ross Bjork, and Head Coach Hugh Freeze then went and recorded a video to explain to their fan base what is happening, and announced that they are self-imposing a one-year bowl ban for the 2017 season.  If you'd like to read a transcript of the entire presser, check that out here: http://athleticsworking.wp2.olemiss.edu/transcript/ .  A bowl ban, if you're keeping tabs on conference financials, is Ole Miss giving up almost $8M in bowl revenue from the SEC next year (yes, even schools that don't make bowls get that much money).
Let's go back to where this all started though: the 2013 recruiting class that ended up ranked #8 in the 247sports.com composite rankings, including grabbing four 5* recruits (which was more than anyone not named Alabama).  Before that, Ole Miss had ranked #47 in 2012, #20 in 2011, #23 in 2010, #19 in 2009, #29 in 2008… you get the point.  From 2006 until 2012, Ole Miss signed ZERO 5* recruits.  They signed one in 2012, then 4 in 2013, and 3 in 2016.  Ole Miss was FAR exceeding expectations on the recruiting trail.. and when other coaches started to catch wind of some of the things going on, they were not happy about it.
Ole Miss was FAR exceeding expectations on the recruiting trail.. and when other coaches started to catch wind of some of the things going on, they were not happy about it.
I'm guessing the majority of people reading this would like the details of this case spelled out easily.  What exactly does all this mean?
Let's dive right into the biggest cards on the table: the charges, and head coach Hugh Freeze.
What exactly are the NCAA's allegations against Ole Miss?
Ole Miss's football program, to date, has 21 allegations of wrong-doing from the NCAA, included the dreaded "Lack of Institutional Control," which is something we RARELY see anymore.  Your program has be insanely rogue to get that – even Rick Pitino and Louisville did not get this in their basketball players with prostitutes sex scandal last year.
Level III is the least serious and Level I is the most.
The 9 newest violations are listed below, and they're doozies.  The University will be contesting parts of #4 and all of #5-9.  I won't lay out every detail in the exact terminology of each allegation… I'll just lay them out in the easiest terms possible, along with what level violation they are:
Level III: The football program setup a hunting trip for a recruit with a booster in 2013.
Level I: The program provided lodging and transportation for recruits on several trips, along with purchasing meals for them and their friends between March 2014 and January 2015.
Level I: A former staff member provided false information (or he LIED) to the institution and enforcement staff in 2016.
Level I: A former staff member setup contact for a player with 2 boosters who were paying the player between April 2014 and Feb 2015.
Level I: A former staff member setup for some recruits' families to get free merch from a store owned by a booster, rather than from the school in 2013 & 2014.
Level III: A former staff member had impermissible, in-person contact with a recruit in 2014.
Level I: A booster provided free meals 2-3 times at his restaurant for recruits.
Level I: (I'm just going to post it as it is stated by the University) the head football coach violated head coach responsibility legislation. This allegation is not based upon personal involvement in violations by Coach Freeze but because he is presumed responsible for the allegation involving his staff that occurred between October 2012 and January 2016. Although we disagree, according to the NCAA, Coach Freeze has not rebutted the presumption that he is responsible for his staff's actions.
Level I: (Again…posting straight from the University) It is alleged that the scope and nature of the violations demonstrate that the university lacked institutional control and failed to monitor the conduct and administration of its athletics program. This charge replaces the more limited failure to monitor charge in the January 2016 Notice of Allegations.
What is the time table for this case to be finished?
If we've learned anything from the North Carolina case, it's that these things can drag out forever.  North Carolina found several ways to extend these things to the point that nobody even cares about it anymore, by finding and self-reporting their own secondary violations, which would require another notice of allegations, and the more time you put between all of these, the more time you have to build a case, or just tell the NCAA to screw off (which is basically what North Carolina did).
If you want to get technical on it… after the NOA from the NCAA is received by the school, the school has 90 days to prepare a response.  After that response, the NCAA has 60 days to put together their own case, after which the school goes before the NCAA's Committee on Infractions (COI), which SEC Commissioner Greg Sankey happens to be a member of (to be fair, Sankey will not be able to help rule on the Ole Miss case because they are a member institution of the conference Greg represents).
So… the long and short of it: Ole Miss could be going before the COI around the time of the SEC Media Days.  Which would be an absolute circus, and really entertaining to watch.  I cannot wait to listen to Finebaum during that stretch.
What does this mean for Hugh Freeze?
It's definitely not a good thing.  At all.  There's really no way that Freeze can win this one.  But he does have to find some kind of defense to dig in with.
The "failure to monitor" allegation was elevated to "lack of institutional control," which usually spells the end of the road for coaches.  Basically, Hugh should have gotten out while the gettin was good.  LoIC is the absolute worst charge you can get.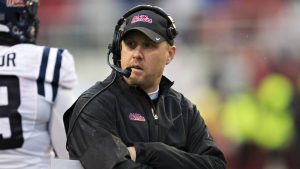 On one hand, Freeze can say that he had nothing to do with anything, and it was just a rogue squad of coaches and players operating without his knowledge.  Which still fits the bill as "lack of institutional control" because, honestly, he should have known what was happening with his staff.  So if he claims he did not know, he's still screwed.
On the other hand, if Freeze does admit that he knew what was going on, that goes beyond the lack of institutional control.  I don't know that I've ever even seen this, so I'm not sure exactly how much the NCAA would do to a program if they knew the rules and just straight up admitted that they didn't give a damn.  I imagine it might rival the SMU death penalty.
A likely situation is that Freeze may be done at Ole Miss.  For these charges, Freeze could receive a show-clause, which could be pretty substantial considering what other NCAA coaches have gotten show clauses for over the past decade.  If that's the case, Freeze could be fired before the season even starts.  Since Ole Miss has been fighting this the entire time, and not wanting to admit ANY wrongdoing, they will appeal whatever the NCAA decides, and then the case can stretch through the 2017 football season.  So, with an appeals process, Hugh could survive one more season, but that may be it.
Who were the players that ratted them out?
Everyone seems to believe the 2 players who talked to the NCAA were Leo Lewis (the player who received the money), LB at Mississippi St, and Austin Golson (the player who took the hunting trip), OL at Auburn.  A little backstory for those that have not been following – the NCAA offered immunity to anyone at other schools that would be willing to discuss what happened during their recruitment at Ole Miss.
Both players were recruited by Barney Farrar, who was also the staffer mentioned in the Tunsil text messages that came out during the NFL Draft last year. Farrar, for all intents and purposes, was the liason between boosters and players. He setup payments and made sure they were taken care of.
If you're familiar with NCAA rules, somebody in Farrar's position on the staff should not be allowed out on the recruiting trail. But there was an exception made in this case, due to former offensive coordinator/quarterbacks coach Dan Werner being taken off the road due to his wife passing away not so long ago and the fact that he has a child with special needs. Rather than recruiting, Werner needed to stay home with his son, so Ole Miss asked the NCAA for an exception to allow Farrar to recruit in place of Werner.
Chris and I talked about this all the way back in November (in podcast 34), stating that if the NCAA is offering immunity to any player willing to talk, that they were going to drop the hammer in Oxford.  We even stated back in that podcast that they should have taken a bowl ban for this prior season, before Chad Kelly went down, to go ahead and get it out of the way.  It was an ego problem in Oxford – they were just flat out lying to the public and the NCAA and thought everyone was too dumb to know what was going on.
Ole Miss self-imposed a one-year bowl ban.  So is this over?
Not by a long shot.
The Level I violations are incredibly serious, and Ole Miss going public with their denial of any wrongdoing during last year's SEC media days did nothing more than piss off the NCAA.  Hugh Freeze constantly speaking about integrity and telling anyone that would listen that Ole Miss did not do anything wrong was basically just laughing in the face of the guys in Indianapolis.  Remember, the guys that work at the NCAA are people too, and when they feel like they're not being respected, or being made a mockey of, emotions can take over, and they're out for blood down in Oxford.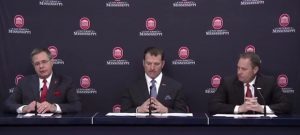 Take a look at the NCAA's case against USC.  The sentence was announced on June 11, 2010, and that dreaded "lack of institutional control" was the main caveat in their case.  In that situation, one player took money from an agent… not a booster for the program, and it was secluded to a very small segment of the program.  But people did not want to cooperate with the investigation.  Extra benefits for Reggie Bush.  That was the only serious charge.  They were hit with a 2-year postseason ban, along with the loss of 30 scholarships over a span of 3 years.  It crippled the program.
In Ole Miss's situation, they had staff members lying to enforcement, boosters paying multiple players and potential players, and, basically, guys knowing the rules and just straight up breaking the rules.  It was a system-wide problem.
The NCAA said Pete Carroll should have had better control of his program, and that was regarding one player taking money from an agent.  In this situation, you had a major segment of a football program knowingly violating NCAA restrictions without any regard for the rules.  This is a big time issue, and the NCAA is going to absolutely hammer Ole Miss.
What should Ole Miss expect?
To be honest, there's no telling.  At the least, it should be what USC got for the same "lack of institutional control" charge –
At the least, it should be what USC got for the same "lack of institutional control" charge – 2 year bowl ban, TONS of scholarships lost, and people losing their jobs.  The biggest issue here is the future of head coach Hugh Freeze.  In order for Ole Miss to get back in the NCAA's good graces, they are going to have to clean house, which means getting rid of Hugh Freeze and almost all of the football staff, along with disassociating for a very large number of boosters.  The program is currently a cesspool right now, and the NCAA has pointed that out.
My best guess would be a 2-year postseason ban, a significant fine, Hugh Freeze gets fired, up to about 30 scholarships lost over 3 years, and added years of probation, including a lengthy "repeat violator" time-period, in which case the NCAA could add additional harsher penalties if the program continues to operate the way they have.
It's only going to get more ridiculous.  We still have not had the David Saunders testimony from the ULL vs ACT lawsuit, which could spill the beans on Auburn and Ole Miss, along with a number of other things.  I'll be writing more about Wayne County, David Saunders, and how kids have been getting fake ACT scores to get into college to play football for years.